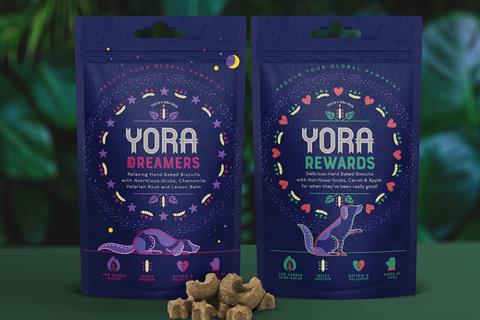 Sustainable petfood startup Yora has expanded its pioneering insect-based range with a trio of snacks for dogs.
Each 100g SKU is made with the larvae of black soldier flies, which were "an antidote to the worrying trend for feeding human-grade meat to dogs and cats" according to the brand. They would help reduce meat consumption while "providing pets with all the nutritional benefits they need".
Dreamers bedtime biscuits (rsp: £4.69) contain valerian root, chamomile & lemon balm "to help soothe your dog ready for a good night's sleep". Meanwhile, British oats would "ensure a full tummy until breakfast time" said Yora.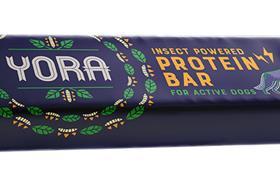 Its new Protein Bar (rsp: £2.29) is made with 50% insect and the likes of beetroot and spinach – "which have high vitamin and mineral levels to aid recovery during and after walks". Rewards, meanwhile, (rsp: £4.69) is a pack of training treats that are "full of flavour and low allergen".
All three hand-baked innovations come in fully compostable packaging.
Yora made its debut in early 2019 with what it claimed was the UK's first dogfood made from insects, aimed at reducing the environmental impact of the petcare category. Cultivation of its grubs – which are fed on vegetable waste – generated "96% less greenhouse emissions" than beef farming, it said.
"During the past 18 months, there has been a palpable shift in the public consciousness, and more people than ever before are trying to green their lifestyle," added Yora head of innovation Will Bisset. The startup hoped to provide "peace of mind for environmentally conscious pet owners".
It comes after human snacking brand Crunchy Critters last week overhauled its portfolio in an effort to broaden its appeal. Its 11-strong range now includes snacks that "blend insects with more familiar ingredients", and include new variants meant to ape traditional flavours of potato crisps.