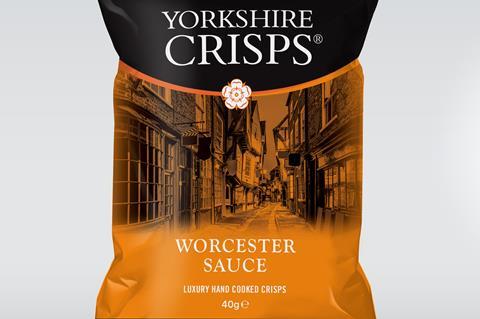 The Yorkshire Crisp Company is ditching its Henderson's Relish crisps in favour of a new vegan Worcester sauce flavour.
The new Worcester Sauce SKU was made using a dried vegan Worcester sauce which is made with spirit vinegar, onion, salt, tamarind paste, cloves, ginger and garlic.
It rolled out this week into independents and delis (rsp: 79p/40g).
The brand said it had been a "hard decision" to abandon the Henderson's Relish crisps, which contained milk. Although the brand said it was "similar in taste" to its successor.
"After listening to our customers and to feedback from our tasting panels, it became very clear to us that we needed to incorporate more flavours that are plant-based," said the brand's sales director Tim Wheatley.
The brand already selles three flavours suitable for vegans: Sweet Chilli & Lime, Natural Sea Salt and Nowt On. All its crisps are also gluten-free