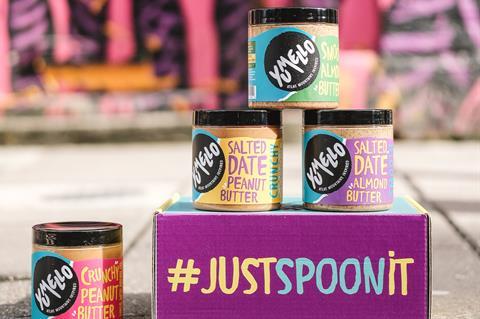 Nut butter brand Yumello has bucked the trend for shrinkflation by switching to larger jars - without raising its prices.
The North African-inspired brand has moved its butters from 170g glass jars to 250g and 230g plastic pots.
It has also given the four-strong range - comprised of Crunchy Peanut Butter, Salted Date Peanut Butter, Smooth Almond Butter and Salted Date Almond Butter - a makeover to accompany the change (rsp: £2.85 - £4.95).
"We had hundreds of customers writing in to say they wanted bigger jars, and we listened," said Yumello co-founder Esther Lopez. "Bigger jars were not good enough for us, we wanted to offer our customers the best possible value.
"We worked tirelessly to create commercially viable bigger jars and keep the same rsp," Lopez said, which "aligns us with the category while retaining the ability to add value".
The brand was working to "increase the percentage of recycled material content" in the clear plastic pots and black plastic lids, she added. The new packs are 100% recyclable.
The brand said the switch would save on CO2 emissions from transporting glass jars.
Lopez said: "We take our environmental responsibilities seriously and are especially proud that our products are manufactured in energy self-sufficient facilities with no gas connection, where ovens, mills etc. are powered by solar energy."