Food and drink doesn't have the glamorous profile it once did. What can the fmcg industry do to attract the brightest graduates – and retain them?
The appetite to work in food is flagging. According to research by Bright Network, consumer goods and retail now languishes at the bottom of the pile when it comes to career choices for top graduates. Only engineering fares worse, with less than a quarter (23%) now considering a role in the sector.

It hasn't always been this way. "When I came out of university 20 years ago the advice was to go and work for a Kellogg's or PepsiCo, you'll get first-class training and development and build yourself a career within fmcg," remembers Simon Walton, partner at Berwick Partners. "When I got an offer from one of those businesses and went into recruitment instead my parents were horrified."

Now though, "whether we like it or not, graduate entrants don't see the sector as glamorously as they once did," he adds. Instead they're lured away into Silicon Valley-esque tech companies or high-powered jobs in the City with banks or law firms. The same survey found 45% were actively pursuing a role in consulting, 41% in banking and 36% in tech.

"Is our industry now an attractive sector people are flocking to come into? The answer is no, definitely not," says Justine Fosh, CEO of the National Skills Academy for Food and Drink (NSAFD). "We've done research that says something like only 15% of school leavers would consider food and drink as a future career."

It's a shift that leaves the sector - the UK's largest private employer - with a huge problem. For one, its workforce of 3.9 million people is rapidly ageing, with a third set to retire by 2024. And then there is Brexit which, however it might end up, has already begun to erode the steady supply of EU migrant labour upon which the industry relies. Conservatively it's estimated we'll need an additional 140,000 recruits in the next five years.

In other words, it urgently needs to tempt emerging talent back or face a deepening gap in its most important ingredient: people. So, what does it need to do?

Looking at three of the leading choices for UK graduates - tech, finance and law - it'd be easy to start with pay. All three fields are known for creating their fair share of big earners, with even middle managers taking home six-figure salaries. Graduate starting salaries at top law firms can be as high as £47,000, according to the 2019 High Fliers report, or £45,000 at tech firms.

On top of basic salary "one of the big incentives in working for tech companies is equity," says Rafael Rozenson, founder & CEO of Vieve Protein Water, who has also worked for Monster Energy, Danone Waters and Mars Chocolate. "You can be out of school, work for two to three years and be making a six-figure salary."

The perception of pay in food and drink, on the other hand, is that it offers far less tempting sums. In part that's fuelled by coverage of its public-facing staff, with supermarket store workers, factory staff or labourers in horticulture wrapped up in debates around minimum wage, transient roles and equal pay disputes.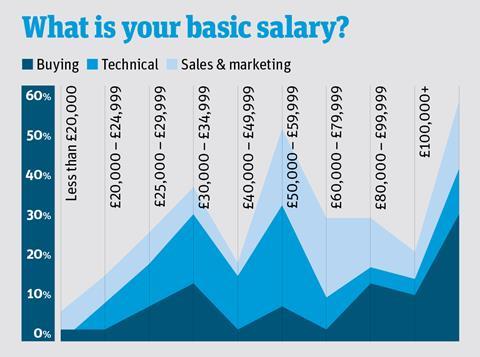 As a result, "the image of work in the food and drink industry is often one of temporary and relatively low-paid employment," agrees John D'Arcy, a partner at Newton. "Pictures of people in white jackets and high-visibility clothing don't necessarily paint an accurate view of how exciting the sector can be."

Nor does it tally with the reality of the pay on offer. According to the latest research on pay in grocery from recruitment specialist More People (see box, p30-31), 13% of the total number surveyed, working in roles across buying, technical and marketing, are earning more than £100k. Only 28% are earning below the national average income of £29,588, while 39% are taking home above £50k. Seventy per cent also said they received an annual bonus. "It's not banking, but equally it's not a poor place to be by any stretch," sums up More People managing director Andrew Fitzmaurice. Even on graduate pay the sector can hold its own, with starting salaries at Aldi of £44k.

"It's a misconception that food and drink pays less than other industries," says Ali Palmer, partner and head of the consumer practice at Odgers Interim. "Major brand names will offer highly competitive salaries to attract the best graduates and large industry leaders will offer the best paid graduate schemes - a fact that is mirrored across many other industries in the UK.
"At a senior leadership level, fmcg is a highly attractive market with pay and benefits packages on a par with financial services"

"At a senior leadership level, fmcg is a highly attractive market with pay and benefits packages on a par with financial services, technology and other lucrative sectors," she adds. "Senior leaders across the c-suite can command a level of pay in the ball park of £250k per annum for any medium to large-sized fmcg."
Profile
But if pay isn't the issue, what is? After all, "grocery offers fast-paced, challenging and rewarding careers, with interesting and valuable problems that require top talent to solve," says D'Arcy. "Attracting talent should be easy, but the industry has not yet managed to compete with the perception of working in sectors such law or banking."

In part, say experts, it's a question of profile. In many cases the emerging talent pipeline isn't even considering a career in food and drink. "The nature of eating own-label products and mindlessly going round the supermarket means that seeing it as a viable career where you can easily earn up to £80k is not, I suspect, on the minds of some graduates," says Fitzmaurice.

At jobs fairs, young people often fail to appreciate that roles available aren't limited to wearing wellies and a coat, says Fosh. Food companies all have finance departments, HR departments - even physios. "There is a lack of visibility. People don't always understand what we produce, the economic value, the fantastic jobs available. It's seen as boring, cold and monotonous, with hair nets, wellies and hard work. Sometimes even guts and blood. That's diametrically opposed to many who work in the industry who have a much more positive view of it."

In short, "the industry hasn't marketed itself as well as it has marketed its products," she says. How can it address that? Well, engaging in schemes such as the NSAFD's 'Tasty Tours' initiative, where companies open up their doors to local schoolchildren can "really bring to life" the opportunities, as can recruiting internal ambassadors to communicate with a younger pipeline. The likes of Red Bull, Innocent Drinks and Vita Coco have already spotted the opportunities in reaching undergraduates direct on campus with their own student ambassador programmes.
Work culture
Once they have their attention, though, food and drink firms need to reflect a shift in what the next generation of professionals are looking for. For instance, joining a 'fast-growing and innovative' company is top of the priority list for 2018 graduates, according to the Bright Network, closely followed by prestige. Pay has dropped to third place. That leaves blue chip firms, where roles are typically siloed, growth is small and bureaucracy is king, losing out to smaller, agile startups, regardless of the size of their pay packet (see box, left).
"Graduates today don't want to feel they're a small cog in a big machine, they want to be a big cog in a small machine"
"Graduates today want somewhere they can really grow and to get their hands dirty," says Thea Alexander, co-founder of the Young Foodies network. "They don't want to feel they're a small cog in a big machine, they want to be a big cog in a small machine.

"There's a big piece about more exposure to more parts of the business rather than being siloed. That's a big pull."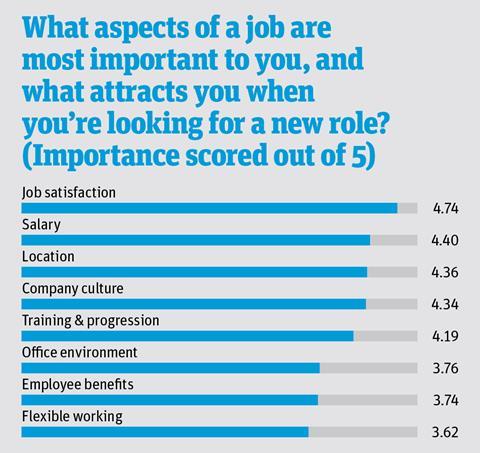 So, what can big fmcg firms - those that face the steepest skills gap - do about it? Emulate this startup culture, advises Rozenson. "They need to be less process-orientated, more flexible with working arrangements and career choices, and understand that not everyone has a linear career path. It's looking at the models of these tech companies and seeking to adapt."

That includes emulating their approach to benefits. Though 44% of those surveyed by More People enjoyed a car or car allowance, 61% a car parking space and 52% health insurance in addition to their basic salary, the so-called 'softer' benefits prevalent in startups are in far shorter supply. Only 24% could take advantage of flexible working, for example, 7% could finish early on a Friday and just 2% were given their birthday off. Insignificant as these might sound, the next wave of recruits value these nearly as much as salary.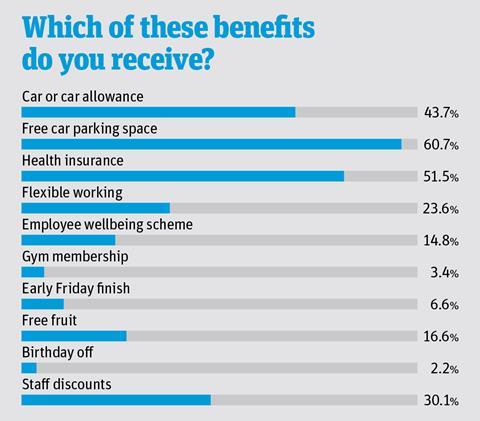 The sector has a big job to do when it comes to proving it's a career of choice once again. But "in a market which is so competitive and universally short on candidates, as en employer you need to do what you can to recruit and retain the talent you want," sums up Fitzmaurice. Otherwise "where are these people going to come from? If we've got an ageing workforce and we're not bringing in enough new talent, where do we go?" Into a hole 140,000 people deep, if we're not careful.Are startups behind the skills gap?

There has never been more appetite for working in the food and drink sector, says Thea Alexander of Young Foodies. "It's never been sexier." Particularly as "there's such a voice of challenger fmcg permeating through universities at the moment".

The problem is less a lack of candidates, she believes, more that the industry is simply more fragmented - as a result of the surge in startups and SMEs.

Rather than "a handful of big businesses and a finite number of roles" as was the case in the past," adds senior talent manager Caspar Giles, "now you have this massive long tail of startups and challenger brands which has multiplied the people needed."

The resulting 'gap' in the pipeline is simply a mathematical inevitability "as we become a more fragmented industry," says Alexander.

In many ways "this challenger brand space is actually helping to bring new people into the industry and re-energising the sector," adds Giles.

The problem for blue chips is that candidates are specifically drawn to the startup culture, even if they pay less. "At a startup you won't be making as much as at P&G," says Rafael Rozenson of Vieve. "I know because we're recruiting and the salary we're offering is 15% to 20% less than an equivalent position.

"But you have the opportunity to build a company from scratch and forge your own career path. People are attracted to that freedom. People aren't that swayed by salary now, they're swayed by opportunity."
Source: Data supplied by fmcg recruitment specialist MorePeople