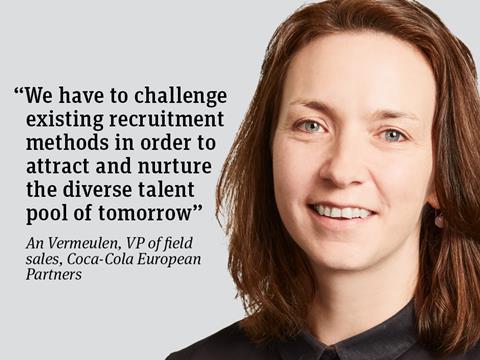 All indications show future generations of professionals will become increasingly proactive and consider careers at a much earlier stage than those before them. More than nine in 10 (94%) young people say that, rather than waiting until they have finished their education to find a suitable job or career path, they prefer employers to directly interact with them about what they can offer.
That's why, at CCEP, we go into schools and colleges to meet young people across Great Britain, as well as providing a range of experiences outside of the classroom.
I am particularly proud of the bespoke process we've put in place for our field sales apprenticeship recruitment as it not only enables us to find great talent but also helps candidates develop their own personal business skills. We work with MyKindaFuture to run a series of upskilling challenges and workshops for college and sixth-form students at dedicated Youth Event Days across the country. As a result, students get to learn all about CCEP and the broad opportunities we can offer, and in turn, we have a chance to attract the best talent for our business.
But it all goes a lot deeper than this. The aim of the workshops is to make candidates feel excited about their professional futures, whether with CCEP or another employer. The sessions are fun and interactive and we use specialist tutors, including professional actors, to facilitate them. During the sessions, candidates get access to a range of different skills from practicing three-minute elevator pitches to learning key interview techniques.
Experience tells us that skills-based learning is crucial in helping lay the foundations for young talent as they enter the world of work. The sessions within our Youth Event Days provide students with a real insight into the world of work, so they understand how to work effectively with other people and present themselves in the best possible way to potential employers. Last year, 97% of candidates who attended our recruitment workshops told us they since felt more confident about their future careers.
Finding people with different perspectives and ideas, and with a mixture of skills, experiences and expertise is the root of what makes a successful business, and our approach means we constantly encounter young people from a diverse range of backgrounds. As a business, we believe this method of recruiting young talent is vital as it provides candidates with the tools they will need as they approach the world of work. Perhaps even more importantly it opens up career opportunities to all young people we meet, some of which they may never have thought possible. Without businesses taking this proactive, direct approach, a significant number of school and college leavers may believe the only path to skilled employment is through traditional routes such as further education and university.
Due to the success of our apprentice recruitment programme in 2016, we are launching our largest apprentice recruitment drive to date this year, investing £1 million into our programme and increasing the number of apprentices across our full operations in GB by more than 50%. Further to this, the field sales apprentice intake will double to 20 this year with outside sales reps being recruited in Leeds, Manchester and London, as well as from CCEP's customer Service Hub in Peterborough. This follows the highly successful recruitment pilot that we ran last year.
We look forward to welcoming our next intake of apprentices over the coming year, and in particular watching very different individuals take their own unique journeys to becoming top professionals. In doing so, they will also become great business assets and help to secure the future success of industries such as ours. Seeing this first-hand is very rewarding and highlights the importance of challenging existing recruitment methods in order to attract and nurture the diverse talent pool of tomorrow.
An Vermeulen is VP of field sales at Coca-Cola European Partners