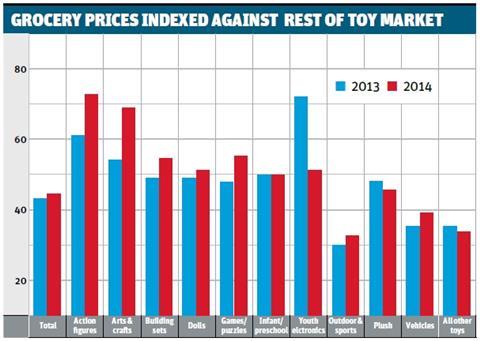 Strong sales of pocket-money priced toys have helped the grocers out-perform the overall £3bn toy market.

Supermarket sales have risen by 6.7% year on year in the first 10 months of 2014, ahead of a 5.6% increase in overall toy sales. Other retailers, including toy specialists and catalogue showrooms, have grown by 5.2% over the period.
A major factor in the grocers' success has been a stronger performance of collectables and other lower price points compared with last year. Sales of toys priced below £3 represented 46% of total volumes in the first 10 months of the year, compared with 39% in the same period a year ago.
Among the strongest-performing products have been loom bands, Panini football cards and Simpsons Lego mini figures.

"Even if the market is highly seasonal, it is also very license and impulse-driven and therefore an attractive category for grocers," says Frederique Tutt, global industry analyst for toys at NPD Group.

The grocers have traditionally traded well in lower-priced toys - which offer spur-of-the-moment purchases well suited to a grocery shopping trip. The predominance of lower-priced products in the supermarkets' ranges means that, on average, the price of toys purchased at the grocers is 57% less than the rest of the market.

However, latest NPD Group data shows supermarkets are adjusting their product ranges and gaining share from their competitors for toys sold between £5 and £50. Of the top 10 best-selling toys in the grocers this year, seven have been priced above £3, with the priciest the Monster High Scaris Dolls at an average of £14.83.

This is resulting in the price point gap between the supermarkets and the rest of the toy market closing in seven out of 11 product categories (see graph).

For example, when indexed against average prices in the rest of the toy retail market, supermarkets sold action figures at 72% the market average price, up from 61% a year ago. Movie-related toys, in particular, have helped to drive the action figure market in the past year.

There have been exceptions, however, with the price of youth electronic goods in supermarket ranges falling from 72% of the market average a year ago to 51% this year.