The shares of Casino Group got a 10% bump recently following news its Monoprix chain had struck a deal to sell via Amazon Prime. The group had previously announced a decision to deploy Ocado's supply chain technology.

The two moves highlight recent activity in the French online grocery sector where, until its Monoprix deal, Amazon had been looking to establish a greater presence through a retailer partnership.

Carrefour ruled itself out in January, announcing a six-fold increase in digital and e-commerce investment to €2.8bn over the next five years. Leclerc launched its own home delivery service in Paris just days before the Monoprix news broke, and Système U is probably working out its next move after it was revealed to also be in discussions with Amazon.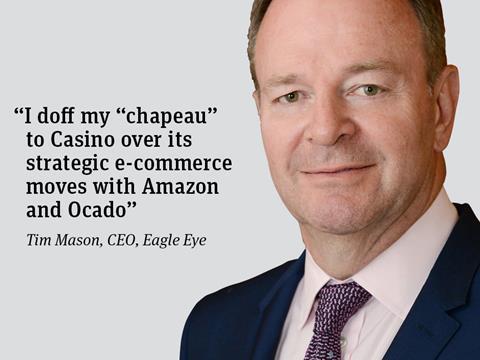 So, I doff my chapeau to Casino over its two strategic e-commerce moves, which demonstrate how it is coming to terms with the challenges often associated with launching an e-commerce grocery business.

One such challenge is higher e-commerce supply chain and fulfilment costs. I'm sure the efficiency gains from its Ocado technology deal will provide a powerful platform on which to grow all its online businesses.

Similarly, the Prime partnership enables the Monoprix parent to quickly spin up a one-hour urban e-commerce delivery offering, while Amazon gets a route into one of its relatively underpenetrated markets.

Amazon also gets the Monoprix brand to underpin its Prime Now scheme. It can point to similar tie-ups with Morrisons and Celesio pharmacies in the UK, Dia in Spain, and the Rossmann drugstore chain in Germany, as well as Sprouts Farmers Market in the US, whose CEO has declared the move "very successful".

Winners all round, some might say. But the Monoprix-Amazon Prime tie-up looks to me like a wholesale deal, which comes with the same disadvantages of any other distribution deal.

I'm not privy to the Prime deal detail, but it requires Monoprix to divest any influence over this new e-commerce shopfront and, more importantly, any real connection to customers who shop it. Furthermore, Monoprix is collaborating to give away important data-rich, customer-facing parts of this new online channel to a competitor who has the luxury of being able to take a notoriously long-term view on realising any returns on its own investments.

This is why I like Casino's strategic Ocado supply chain deal better than the tactical Monoprix-Amazon Prime e-commerce one. The long-term, strategic value of customer connection must outweigh the cost of establishing the connection itself - regardless of the channel or partner.

Tim Mason is CEO of Eagle Eye