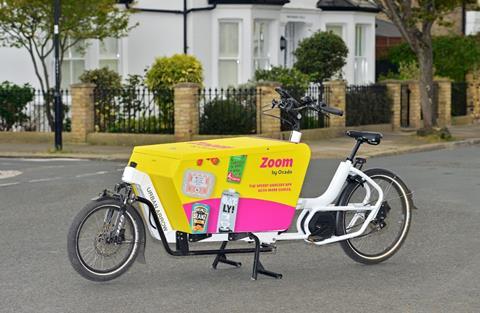 Ocado has launched a second distribution depot for its one-hour delivery service Zoom by Ocado.
The 13,957 sq ft warehouse space is located in Canning Town, Newham, east London, and offers customers a range of more than 10,000 products, which Ocado Retail said was "a range five times the size of most other immediacy services".
The Newham site will create jobs for 130 new colleagues across a range of roles including team leaders, drivers and warehouse staff.
The depot will "open" with a fleet of 100% last-mile green delivery vehicles, comprising a mix of electric cars, e-cargo bikes and electric mopeds. Orders will be delivered in recyclable bags.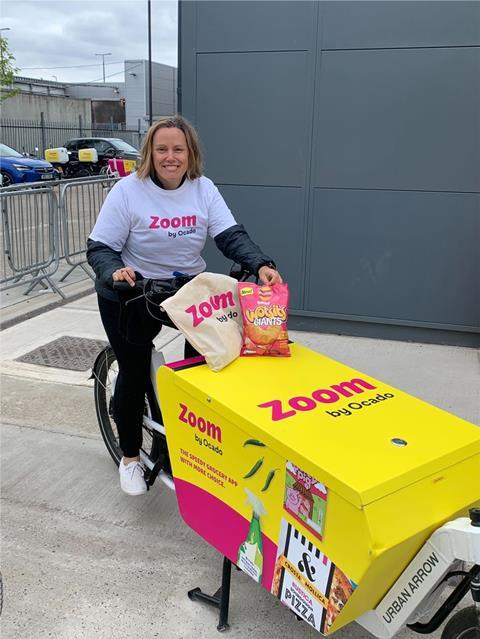 Ocado said the site will be "amongst the greenest and quietest grocery facilities in the UK". Planning documents for the site – on an industrial park between Canning Town and West Ham tube stations – show six electric vehicle charging points, an e-bike parking bay and 25 car spots.
Customers using the Zoom by Ocado service can opt for delivery within 60 minutes or select a one-hour slot. Delivery charges start from 99p with a delivery promise that if an order is late, there is no delivery charge for a customer's next order.
As a launch promotion, new customers will be offered 30% off their first order.
The Newham site is the second Zoom by Ocado location, the first being in Acton, west London which opened slightly ahead of schedule in 2019.
"We believe rapid delivery shouldn't mean compromising on product range, value or quality – our customers in west London tell us they love the wide range available on Zoom by Ocado, which includes M&S lines, great-value Ocado own-label ranges and hyper-local suppliers. We can't wait to bring all this and more to Newham now, and other places across the UK later this year," said George Dean, head of Zoom by Ocado.
In February, Ocado announced it will open three further sites, one more in London and two in "other UK cities" within the next year-and-a-half.
The Newham site has been built using the Ocado Smart Platform (OSP) with around 70 robots at work on a grid, picking items and adding them to orders.
As part of the site launch, Zoom by Ocado will be supporting The Felix Project, one of Ocado's existing key charity partners and London's largest food redistribution charity, which has a site in nearby Poplar. Ocado has donated £500,000 for the charity to purchase five new electric vans and install nine e-charging points. The brand is also a supporter of Magic Breakfast, a charity working to provide hearty and nutritious morning meals to schools up and down the country. Zoom by Ocado will donate food and drink items which will be distributed across nine schools in the local area.
"We're committed to being the best neighbour possible, contributing to the community by way of supporting local suppliers and through charitable partnerships, in particular our continued work with The Felix Project in Poplar," Dean added.
The Newham site will champion local artisan suppliers including East London Liquor and Mr Singh's Crisps, a family-run food business based in Stratford, Ocado Retail said.
"Having our range of small-batch crisps sold on Zoom by Ocado means a lot to us as a family-run, local business," said Popa Singh, creative director of Mr Singh's Crisps.
"The brand started in my garden shed back in 2008, making chilli sauce and now crisps too. Getting our products in the hands of local people is crucial so I'm delighted that Zoom by Ocado is supporting us on our journey, helping to spread the word of Mr Singh's across east London and beyond," he said.