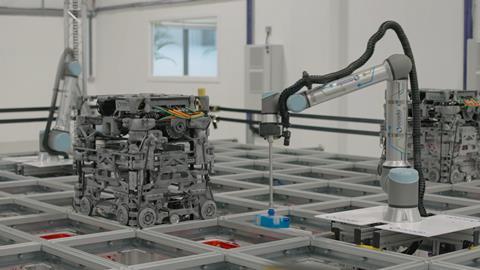 Ocado has unveiled a suite of "game-changing" technology, which it says will enable its partners to establish distribution sites faster, fulfil orders quicker and do so with lower capex and operating costs.
Among the "latest ground-breaking innovations" revealed on Wednesday were a new version of its grid robot, robotic arms that can pick items from totes in the grid, and a robot that can place orders on to racks for loading into vans.
The '600 series' grid robot – which will be going live within Ocado CFCs in coming months – is five times lighter than its predecessor, and more than half of its parts are 3D printed. It's light weight means it can run on lighter grids that take "weeks, not months, to install and at a much lower cost" Ocado said. Those grids can also be installed in existing buildings, bringing down the lead time for new CFCs.
Robotic arms that can move on top of Ocado's grids – called 'the hive – and pick individual items were "hugely significant" Ocado CEO Tim Steiner told The Grocer. The bots – which can currently pick around half of Ocado's range, a proportion that will rise to around 80% in "coming years" – will be going live within Ocado locations by the end of next year before rolling out to clients. Analysis by Bernstein forecast the innovation could release 20%-30% of a partner's labour costs from a site.
Meanwhile, robots that can load totes full of orders on to racks for loading into vans automated one of the most labour-intensive parts of fulfilment, Steiner said.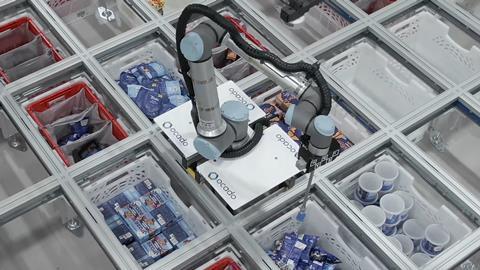 As well as the new hardware, Ocado also launched a software product – called Ocado Orbit – to enable a "virtual distribution centre" where multiple smaller footprint warehouses are brought together into one system.
"With Ocado Orbit, it would be possible to use different CFCs as primary supply hubs for different products to be decanted and then distributed across other CFCs," explained Bernstein analyst William Woods.
"Although it adds in an additional step of inter-CFC transport, we would expect the decant to be more efficient and the transportation is likely to be relatively efficient," Woods said.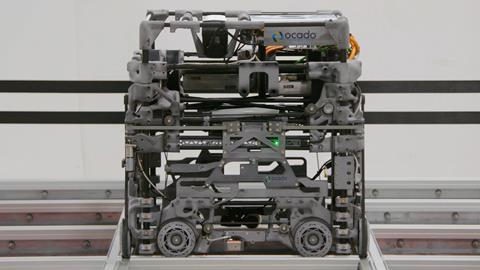 Another software product revealed this week – Ocado Swift Router – enables delivery of both last-minute, short lead time orders as well as larger, longer lead-time orders, all from the same van, Ocado Technology chief product officer Hannah Gibson told The Grocer.
"The hive can pick any items at any point of time and store them in the hive and only at the last possible moment dispatch them on to the van," she said. "That gives you ultimate flexibility to let you optimise the routes irrespective of whether that order was placed a moment ago or a few hours ago or the day before."
Orders could be picked from the grid around 15 minutes before a van departed, Steiner added.
These shorter lead times meant Ocado and its partners could "crush the majority of the point-to-point delivery market" Steiner told The Grocer. The tech could also be applied to rapid grocery, he added.
"We can do point-to-point delivery just like the rest of the quick commerce sector, but we can do it with significantly less labour, fresher products and a range that is 10 times the size," he said.
Bernstein's Woods, however, said it "would be difficult for this technology to enable 30-minute to one-hour delivery with the current CFC set-up".
Also revealed was Ocado Flex, a set of APIs that allow Ocado partners to use their own front-end webshop and apps while taking advantage of Ocado's Smart Platform (OSP). This meant they "no longer need to write off historic investment" in websites they had developed to switch to OSP, and could also benefit from features such as personalised customer recommendations and 'things you may have forgotten' prompts.