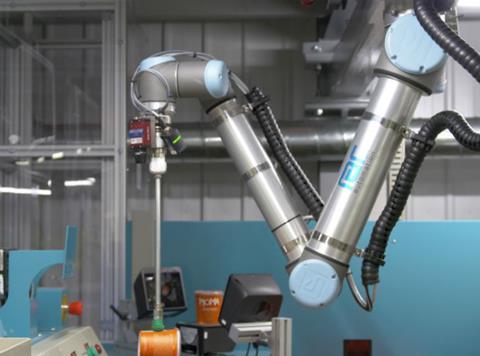 Ocado has begun using its first robot picker, starting on a path towards "100% picking with robots", according to the firm's technology chief.

The online supermarket already uses swarming robots at its Andover site, so called because they move across a hive-like grid collecting crates, but previously all packing of products into crates had been done by humans.

The recently installed robot was shown to journalists independently picking and packing products into crates during a tour of the customer fulfilment centre in Hampshire last week.

It's the first robot picker to be installed in any of the company's fulfilment centres and had previously been shown only as a "prototype in our robotics lab" according to Alexandru Voica, Ocado's head of technology PR and communications. It uses a suction cup, at the end of an articulated mechanical arm attached by a pipe to an air compressor, which makes it capable of lifting items of various shapes and sizes.

Ocado's chief technology officer Paul Clarke said more prototypes would soon be installed elsewhere, marking the start of Ocado's journey towards 100% robot picking, which he compared to long-term developments in car manufacturing.

"It won't be an overnight process where we go from 100% picking with people to 100% picking with robots," he said. "It's exactly the same as the journey the automotive industry has been on, where, 30 years ago, you'd have seen one robot and lots of people and you go there now and see lots of robots and fewer people.

"The fact that we've actually put a prototype here, and it's made its way out of the lab, means we are close to starting to do that."

He said more prototype robot pickers would be installed elsewhere "almost certainly in months" but there were still lessons to learn from the trial at Andover.

"We evolve technology, we hold it back until we're ready and then we start photocopying it," he said. "It's exactly the same as making 10 copies of a document. You try to get the typos out before you start."

Last year Ocado "replicated a production warehouse scenario" to test the performance of a robotic hand at picking fruit without damaging it.

The robotic hand was developed by the Technical University of Berlin, while the Andover robot picker had been developed solely by Ocado over the past year and a half, according to Voica.

The 240,000 sq ft Andover site is one of three Ocado fulfilment centres, with a fourth - three times the size - due to open later this year in Erith, Kent.