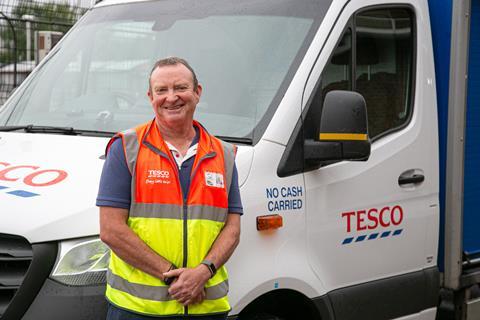 Driver name: Daryl Snyman
Picking store: Tesco Rugby
Delivery date: 1 Sept, 9am-10am
Shopper's location: Daventry
What did you do before becoming a Tesco driver? I was a production manager in a quarry in my native South Africa. I enjoyed it but at one point I had up to 50 people I was responsible for and I always dreamed of having a bit more freedom.
Has being a Tesco delivery driver given you that? Yes. My wife is from the UK, so we were able to move over here. I always had an inclination to be something of a salesman and I see that I'm doing that as I'm looking after the reputation of Tesco.
What do you like most about the job? There are a few sides to it but mostly it's having contact with people. Since I've been working for Tesco, I've got to know many of the customers and see them every second week or so. I love speaking with customers and getting to know them. I really enjoy that side of the job.
Life must have changed dramatically in March when lockdown came. Since lockdown our store has gone from eight vans to 14, which shows you how massive the growth has been online. The operation in store and the build-up to the food getting out can be quite stressful but I feel a bit like I'm being a firefighter. We were one of those privileged enough to be out on the road when everyone else was stuck inside.
What has been the most moving part of the pandemic? We got so much recognition from the customers. Some of them would stand at the window after we had delivered and hold up signs saying thank you. The most moving thing was with some of the elderly customers I was dealing with who were being shielded. Some of them were in wheelchairs or armchair-bound. So, I'd tell them to stay out of the way as I loaded everything for them in the kitchen and talk to them as best I could. It was amazing to feel even then how much they appreciated it.
How hard has it been to follow social distancing rules? We've really concentrated on making sure we follow regulations like constantly cleaning our hands, having lots of sanitiser in the van and using face masks – it's become second nature now.
Have things started to get back to normal yet? Things are normalising slowly but surely, but I hope the momentum that has built in the online business will continue. For me, although it has been hard, it has been an adventure – it has been very rewarding.
How concerned have customers been about an increased use of plastic bags during the pandemic? We are still using plastic bags – we are having to bag things because of the situation, but I've got full confidence in Tesco to make sure they offer our customers ways these bags can be collected. I also think our customers are responsible enough to hold on to these things and dispose of them in a way which is not going to damage the environment.