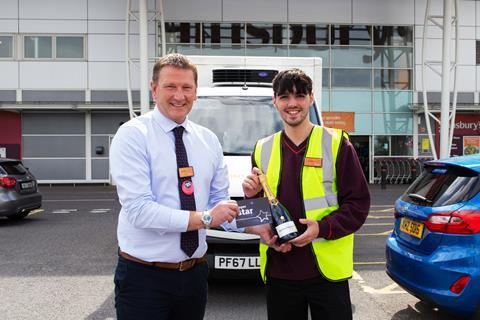 Driver name: Jordan Bell
Retailer: Sainsbury's
Picking store: Sprucefield
Delivery date: 1 August
Shopper location: Hillsborough
What did you do before becoming a Sainsbury's driver? When I first joined Sainsbury's it was as a checkout colleague. After a while I also trained as a back-up delivery driver and I really enjoyed that. Once the coronavirus pandemic came last year, I went full-time in terms of the driving and stopped working on the checkout.
What do you enjoy most about your job? I enjoy it a lot more than checkout because you can have freedom, and I really like driving down the country roads around here where you get some great views. Sometimes you meet nice people and customers. It's just quite relaxing.
What's been your best memory from work since becoming a driver? Probably working with everyone in the shop and making new friends.
Are you and your colleagues working more these days due to the current labour shortage? It's set hours so everyone is working their own recommended amount of hours, but there is a lot of overtime going on as well.
How have you dealt with the current lack of availability and making sure customers still get some version of the products they need at home? The variety in store has actually been quite good, and even if they have to get a substitute it would be something similar, so most of the time I feel like customers are happy. I've never really had any complaints about people getting substitutes, and even if they didn't want the replacement they'd usually just refund it.
What have been the biggest challenges as a driver throughout the pandemic? I'd say trying to keep yourself on time and keep yourself safe. But keeping social distance and wearing a mask now just feels natural.
Has the workload decreased as people feel safer returning to supermarkets and restaurants? I think with the pandemic it's definitely increased, because more and more people didn't want to leave the house. And now some people prefer getting a delivery rather than coming into the store – especially elderly people. The very start of the pandemic was the busiest, but it's still very busy now with summer coming in and people getting barbecue food, beers and so on.
Have you noticed any specific food and drink trends this summer? I'd say because of the heatwave I recognise a lot more burgers and sausages as people are making barbecues. You see quite a lot of beer as people are having parties in their garden because they can't really go anywhere. I'd say those have been the biggest trends.
What's your approach when delivering to elderly people or those with disability issues? Usually I'd just give them more time than a regular customer. If they need help unloading or they want to have a chat I talk with them for a bit. Obviously I'd do it safely – wear my mask and keep my distance.