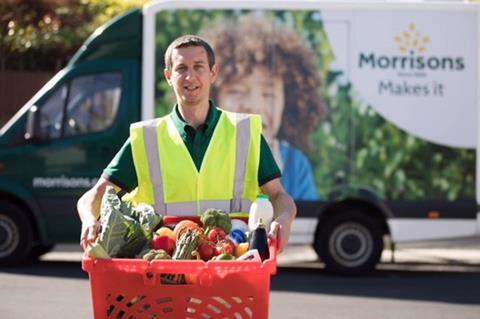 Name: Joseph Sutton

Job title: online director, Morrisons

How is Morrisons' online operation performing? We are growing. Morrisons.com sales through our CFCs contributed 0.4% of our like-for-like sales growth in Q1. And we are continuing to expand our store pick model so we now deliver to places like Scotland, Cumbria, the south east and the south west and have ambitious plans to provide food through online delivery to more and more people.

What are the latest improvements you have made? We are always looking at options to serve customers better and improve coverage. We now serve more than 75% of British households, up from about 50% three years ago. And we are finding new ways to provide for more people. For example, recently we announced a trial with Center Parcs, for their guests to have Morrisons.com delivered direct to their lodges just before they arrive. We also continue to use vertical integration to improve our customer experience. For example, we are looking at ways to improve the time taken to deliver food from farm to fork, giving customers the best possible date codes.

What impact has the pause in Morrisons using Ocado's Erith CFC had so far? We've reached an agreement that works for both Morrisons and Ocado and we'll be back in Erith in early 2021. We will continue to grow Morrisons.com both through adding more store pick capacity and through the existing customer fulfilment centre CFC at Dordon. We will continue to use Erith as a spoke with baskets fulfilled at Dordon so there's no customer that is currently served from Erith that won't continue to be served.

How is the rollout of more store picking options going? At the moment we are picking at 24 stores. We have a plan this year to accelerate this to support us with extra capacity, in order to sustain slot availability and serve more customers with Morrisons.com in new geographies.

What is the advantage of being able to work with different online partners? We need to look to serve customers who want something to eat tonight, or who may want it in an hour or two, or who might want food with a DVD they've ordered. We want the flexibility to serve that customer and that's why we are open for business to explore working with a variety of providers who offer marketplace technologies or last mile fulfilment.

Morrisons is doing lots to reduce the use of plastic in store - what are you doing to tackle this plastic use in your online business? We use recycled plastic bags at our CFCs and we have a refund and return process with our customers which they really love and use, where we take used plastic bags back into circulation and reuse them.