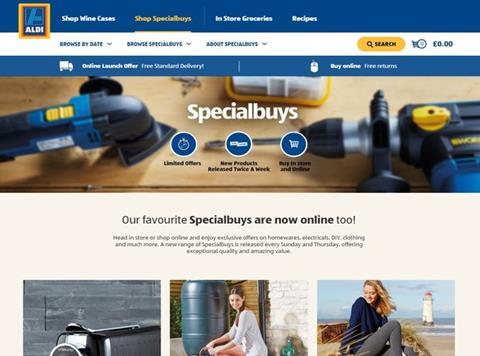 Discounter Aldi today expanded its fledgling online offering, as it began selling a range of non-food items to add to its January launch of an online wine delivery service.

From this morning customers will also be able to order from the retailer's Specialbuys range with the line-up including products such as blenders, vacuum cleaners and lawnmowers.

Aldi will also use the service to sell seasonal gardening and holiday items.

In January Aldi dipped its toe in the online waters with the launch of delivery options for more than 90 types of wine.

It said the platform was attracting around one million users each week, with a "significant proportion" based in London and the South East.

"People told us they were excited by the prospect of being able to buy our wines online and that sentiment has been reflected in the surge of visitors to our website, with many of the orders coming from areas of Britain that don't currently have many Aldi stores," said Jonathan Neale, joint managing director of buying.

"Now with the launch of our non-food Specialbuys, people can buy online from another popular range which, like our awardwinning wines, sets us apart from our competitors.

"There is also no let-up in our physical store-opening programme. We have pledged to open more than 80 new supermarkets during 2016, with four openings already since the turn of the year.

"We are continuing to respond to the demand from customers and bringing Aldi to more people across the UK, increasing our market share in the process."

Aldi's online service is available to consumers throughout the UK, with the exception of Northern Ireland.