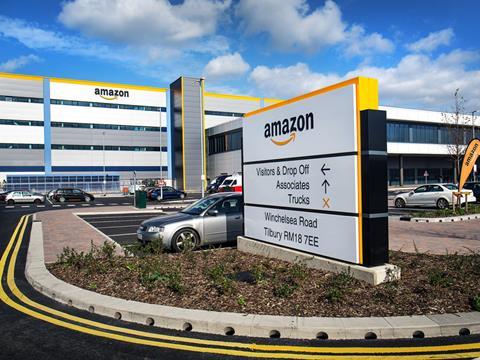 Amazon is to escape the net of Groceries Code Adjudicator Christine Tacon after a much-delayed Competition & Markets Authority review found its grocery sales were not large enough for inclusion.

Today the competition watchdog announced it would be adding online rival Ocado and fast-growing discount chain B&M Home stores to the list of companies policed by Tacon.

However, the body has backed down from including Amazon in the list, much to the anger of suppliers who claim it is not operating on a level playing field with traditional retail rivals when it comes to their treatment.

The decision comes just days after Chancellor Phillip Hammond rejected calls for an online sales tax on retailers, which had been dubbed an 'Amazon tax' by its supporters.

Retail giant Alliance Boots has also escaped inclusion in the list.
The CMA was asked by ministers to look to extend the list of companies covered by the Adjudicator in February.

Today Peter Hill, head of remedies enforcement at the body said: "These rules mean that suppliers are protected from unfair business practices, and retailers can trade with confidence on a level playing field. Businesses supplying Ocado and B&M will now also benefit from this protection."

The CMA has agreed to review every year which retailers are included in the list.

However, The Grocer understands that the body wrote to a much wider list of retailers in the process, including Amazon and Boots, but met strong resistance from lawyers over the definition of what qualifies retailers to be included under Tacon's remit. The GCA is funded by a levy on regulated retailers with a UK annual turnover of more than £1bn.

Rules set by the CMA's predecessor, the Competition Commission, define groceries from a long list of services including food, petfood, alcoholic and non-alcoholic drinks as well as cleaning products, toiletries and household goods.

However, the definition excludes other items such as perfumes, cosmetics, electrical appliances, garden equipment and books.

The Grocer understands Amazon's lawyers strongly argued that a huge range of its sales did not meet the definition and therefore it should not come under GCA rules.

A source admitted that the CMA's "hands were tied" in the talks, though the body promised that "where there are reasonable grounds for suspecting that any retailer may have reached the turnover threshold specified in the order, the CMA will request further evidence from it."

A CMA spokeswoman said: "We can only designate retailers with an annual groceries turnover of £1bn. Those that do not meet this figure cannot legally be designated. Based on the information currently available to the CMA, Amazon does not meet the criteria for designation."

She said the next review would happen in the next financial year.

"I welcome the CMA's announcement that two additional retailers will come under the Groceries Supply Code of Practice," Tacon said. "I am looking forward to working with these retailers and building on the strong progress that I have made since 2013. Suppliers need to speak up and tell me what issues they are experiencing with any of the designated retailers.

"I will be writing to these retailers and expect to meet their code compliance officers in coming weeks."

However, John Noble, director of the British Brands Group, today called for greater transparency from the CMA about how it had reached its decision.

"First of all I welcome the fact that the CMA has promised to review the list of retailers included under the GCA on an annual basis," he said. "It's vital if GSCOP is to remain effective and is seen to be fair.

"But I would urged the CMA to be more transparent about how they reached this decision because my understanding is that there are certain suppliers, and Alliance Boots is one of them, that do exceed this threshold yet have not been designated this year."

Jonathan Kittow, director of Simply Supply Chain, which represents many major chilled suppliers expressed disapontment that Amazon and Boots would not be covered by GSCOP.

"It is good news that Ocado and B&M Homestores will now formally join the current 10 GSCOP retailers. However, the changes required by both, pale into insignificance when compared to two of the largest high street and online retailers who have avoided this re-classification," he said.

"These two retailers operate to such a markedly different set of standards to those covered by GSCOP rules, that it is a huge frustration to suppliers that they will not be pressured into changing their working practices, in line with those who have already adopted the approach of doing the right thing."

Amazon declined to comment on the decision.