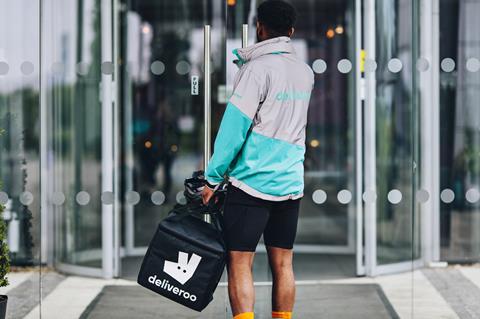 Amazon and Deliveroo have accused the Competition & Markets Authority of failing to produce "any credible evidence" that a deal between the two companies would reduce competition.
In a joint submission, made in response to the CMA's decision to investigate Amazon's minority shareholding in Deliveroo, the two companies said the authority "mischaracterised" both the restaurant and on-demand grocery delivery markets.
Fears last year's deal would have negative consequences for UK consumers, restaurants and grocers were "speculative and not supported by evidence" the companies said in their submission, dated Christmas Eve and published today.
The pair made the case that the failure of Amazon's own meal delivery service, Amazon Restaurants, which it scrapped in the UK in 2018, was "the clearest possible real-world evidence that it is not easy to 'get it right' and execute in this business, even with Amazon's resources and recognition".
"Amazon is just not a potential competitive threat to Deliveroo," said the document. The existing online food delivery market was already "experiencing cut-throat competition" heightened by the ease with which consumers can switch between platforms, it added.
Regarding on-demand grocery deliveries, Amazon and Deliveroo said the authority had a "flawed picture" of their business models.
Deliveroo was focused on impulse purchases, while Amazon offered scheduled delivery of weekly shops, they said. "They are fundamentally different and cater for very different shopping missions," the submission read. Besides, they argued, the rise of Uber Eats, Just Eat and Stuart in the convenience courier space meant competition was healthy.
The size of Amazon's investment and percentage of shares received in return was redacted from the submission. However, the deal entitles Amazon to appoint one board member out of eight, named as the company's UK boss Doug Gurr.
The submission was not enough to convince the CMA to drop its inquiry, and the authority in late December announced it was going ahead with a full, in-depth investigation into the deal.
Deliveroo announced last May that Amazon would acquire rights and a minority shareholding after leading a £450m funding round in the food delivery business. However, the CMA quickly called a halt on any integration of the businesses over concerns they had "ceased to be distinct".
The two companies now have until 11 February to respond to the scope of the inquiry, which was laid out this week.
Deliveroo said today it would continue to work with the CMA, but reiterated that the issues raised by the authority were "speculative and not supported by evidence".
"Deliveroo is a British company operating right across the country and this investment will be particularly beneficial to the UK economy, helping restaurants to grow their businesses, creating more work for riders and increasing choice for customers," a spokeswoman said.