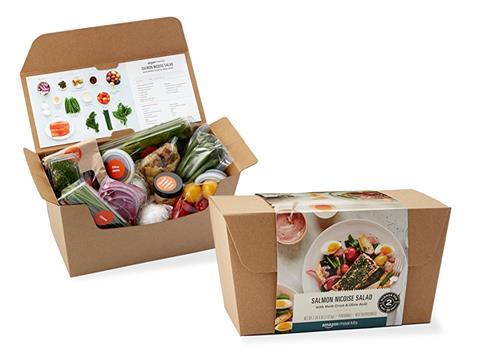 Amazon has launched its first meal kits in the US in a move likely to cause great concern to rivals Blue Apron and HelloFresh.
Just days after filing a trademark for its slogan 'We do the prep. You be the chef', Amazon has made recipe boxes available to a limited number of customers on its US site.
The kits are priced at the higher end of the spectrum at between $15.99 and $19.99 for a meal for two. But unlike many other meal kits, the ingredients are already prepared – marketing pictures show the onion is pre-sliced and cauliflower is pre-diced.
Recipes include falafel patties with tomato and sumac salad and a salmon nicoise salad with herb crust & olive aioli.
There are limited reviews on the newly launched products, but so far they have attracted five-stars, as customers said the meals tasted "a lot better than I was expecting" were "nicely balanced".
The move is likely to be a blow to recipe box rivals HelloFresh and Blue Apron. US-based Blue Apron took a battering to its shares following news that Amazon was due to enter the meal kit market, which could scupper its planned bid to take the company public later this year.
As an international company, HelloFresh is not as reliant on the US market but it does account for nearly half of its total revenue.