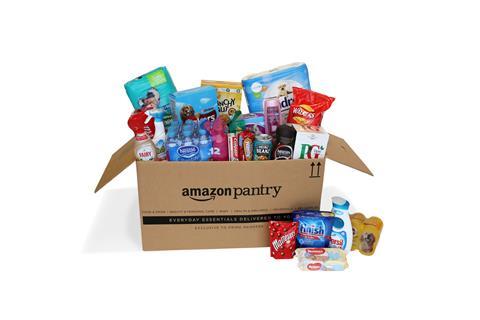 Online retailer Amazon has announced the launch of its Pantry service in the UK as of today (13 November).
The service, which will only be available to Prime subscribers, will add over 4,000 fmcg SKUs which Amazon brands as "essentials", ranging from food and drink to health and beauty products. The service will feature major brands including Kellogg's, Walkers, Johnson's, and Persil.
Delivery of up to 20kg of goods will cost Prime subscribers £2.99, and the company is offering one-day delivery, similar to its current Prime delivery model. Further boxes of product delivered in the same order will cost subscribers 99p.
"Amazon Pantry has been designed to take the heavy lifting out of replenishing the often bulky basics and store cupboard essentials that people need every day," said Helene Parthenay, Amazon Pantry Manager for the UK. "We're always looking to innovate on behalf of our customers and find ways to save them time and money. We think they will love the broad selection, quick delivery and low prices of Amazon Pantry."
The move comes as Amazon looks to ramp up its grocery market presence in the UK, following on from the launch of one-hour delivery on chilled and frozen goods in London and Birmingham as part of its Prime Now service.