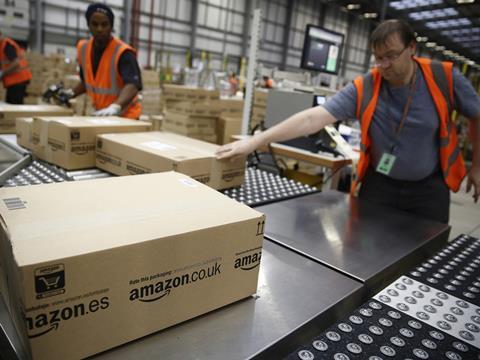 With annual turnover exceeding £5bn, online giant Amazon will pay just £10m in business rates this year - the same amount as 15 small supermarkets, an investigation by The Grocer can reveal.
In the week Tesco boss Dave Lewis called for a level playing field on rates between bricks & mortar retailers and online companies, figures compiled for The Grocer show Amazon's 10 listed UK sites cough up just over £10m.
Its highest contributor is the recently opened fulfilment centre in Hemel Hempstead, which at more than 450,000 sq ft is the size of six football pitches. It faces a rates bill of £1.7m in 2015/16. In contrast the highest billed supermarket, the 172,000 sq ft Sainsbury's in Calcot, Reading, this year faces a bill of £2.4m.
The top 12 supermarket will have a combined bill this year of more than £26m, over two and a half times that of Amazon's entire UK portfolio.
The iniquity is even starker when Amazon's business rates are compared with a supermarket of 27,000 sq ft, which this year will average £693,651 per store.
Amazon's new fulfilment centre in Doncaster, which at 415,000 sq ft is 20 times the size, faces a bill of £857,960, according to the figures compiled for The Grocer by business rates expert, Paul Turner-Mitchell.
This week industry leaders told The Grocer that government could no longer ignore the unfairness of the rates system.
"The government must follow through on its commitment to business rate reform and develop a fairer system," said ACS chief executive James Lowman.
"There are currently separate schemes for calculating business rates for forecourts, pubs, ATMs and other properties where rental values don't reflect the business value of those premises. Why not have a similar system for internet distribution facilities?"
Speaking at the CBI annual conference on Monday, Tesco CEO Lewis called on the government to increase the tax burden on online companies, describing existing punitive business rates, the living wage and the apprenticeship tax as a "lethal cocktail" for traditional high street businesses.