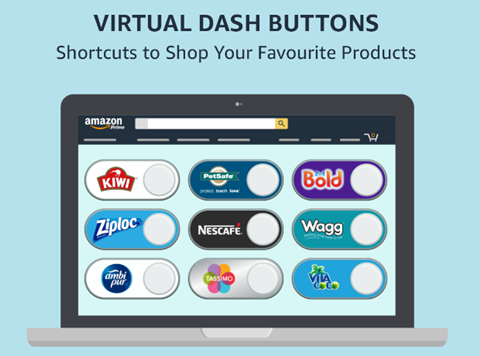 Amazon's Virtual Dash Buttons are launching in the UK exclusively for Prime members.

Customers can now quickly shortlist and order their favourite items by creating buttons on Amazon's website and mobile app.

The service is is now available for millions of Prime-eligible products, with one-day delivery for no extra expense.

Virtual Dash Buttons are free, and can be easily added, customised or organised.

Prime members can view their Virtual Dash Buttons on their Amazon UK homepage, on the home screen of the free Amazon shopping app, and on the Your Dash buttons page, which is accessible through clicking on a user's account.

The move comes after the US launch of Amazon Virtual Dash Buttons on its mobile app and website earlier this month.

"We continue to see more and more Prime members experiencing the convenience of Dash Button devices and their feedback has been really positive, which is one of the reasons we are introducing Virtual Dash Buttons. We'll continue to grow the Dash Button device programme," said an Amazon spokesman.

"In fact, in autumn 2017, we doubled the total selection of Dash Buttons in the UK - UK customers can now select from over 100 Dash Button devices across dozens of categories."

Amazon first launched its physical Dash Buttons in August 2016, letting customers reorder supplies through the press of a button.