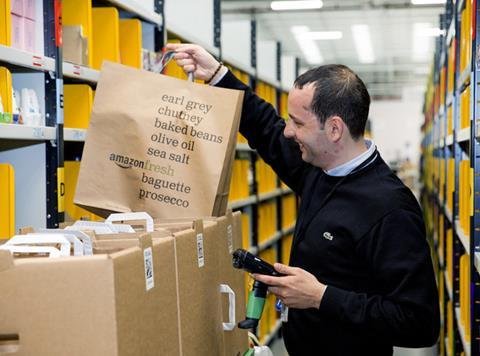 Almost three in five consumers would try Amazon Fresh after hearing about its offering, research from Nielsen has found.

In a survey of 390 consumers, 57% said they were either likely or very likely to try Amazon's grocery service.

The poll was conducted on 9 June, the day Amazon launched its Fresh service to Prime members in Central and East London for an additional fee of £6.99 per month. This covers unlimited deliveries on orders of £40 or more.

The poll also suggests Amazon's same-day grocery delivery is a potential hit with consumers, as 87% of those who wanted to try Fresh said they would use it.

Three quarters of consumers interested in Fresh said they would move their spend from their current retailer.

"The big four are most at risk of losing spend to Amazon Fresh," said Nielsen senior UK shopper research manager Sophie Jones. This was because Amazon sold brands, thus competing more with the mults than the discounters, she suggested.

Interest in Amazon Fresh appears to have increased as more details of the service have become available. Prior to the launch, only 39% of UK shoppers said they would be likely to try ordering food on Amazon in a Savvy Insight shopper panel in May.

Alastair Lockhart, insight director at Savvy, said the Amazon offering could prove tempting for many shoppers. "Amazon is a brand they trust and they know has massive availability, and the other thing is it has a fantastic delivery mechanism." The tie-up with local producers was also "clever", he said, as they gave the online giant credibility in food.