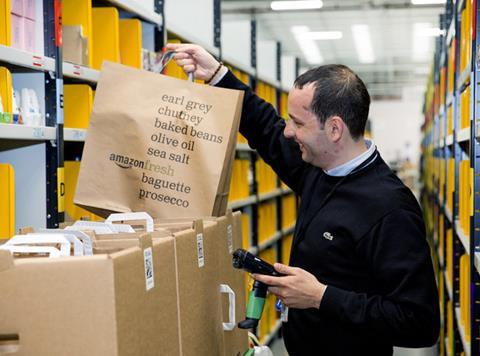 Amazon launched its much anticipated Amazon Fresh grocery delivery service in the UK this week.

The online giant is offering Prime customers a full grocery delivery service in Central and East London with a 30-day free trial offer.

Amazon Fresh will offer same-day delivery on 130,000 products in 69 London postcodes to customers who pay the annual Prime membership fee of £79.

The service, previously only available in the US, will incur a top-up fee of £6.99 per month for unlimited deliveries on orders over £40. The one-hour delivery slots will be available on the same day for orders placed before 1pm, and made up at Amazon's fulfilment centre in Bromley-by-Bow, East London.
See also: Amazon Fresh launches in the UK - here's your guide to what's on offer
Amazon said it aimed to be "competitively priced" and came out cheaper overall than Asda, Morrisons, Sainsbury's, Tesco and Waitrose on the products selected for The Grocer 33 shop on 28 May. In this week's selection (below), it was cheaper than Asda on the 29 products where an exact match could be found, though Lidl was cheaper still.

Amazon's range will include "thousands" of Morrisons own-label products, major brands and artisan products.

All perishable products will have a guaranteed minimum shelf life that customers can view on the site or mobile app before making a purchase, and Amazon will refund anyone dissatisfied with freshness.

It will give out substitutions free of charge where the ordered product is unavailable.

Amazon Fresh vice-president Ajay Kavan acknowledged the bar was "exceptionally high" in UK grocery retailing, but was confident Amazon could break in.

"We believe the key to the long-term success of Amazon Fresh is to bring together the low prices, vast selection, fast delivery options and customer experience that Amazon customers know and love," he said.
See also: What retail and city analysts are saying about the Amazon Fresh launch
Amazon said it was too early to forecast uptake or expansion outside Central and East London.

Analysts were split over Amazon's potential threat to the established grocers. Phil Dorrell, partner at Retail Remedy, said a wider rollout could be cause for concern. "If they get it right in high-density metropolitan areas this could be a threat where you have a high usage of Amazon Prime," he said. "This could take away fresh trade from the big four."

Bernstein was more sceptical. It pointed out that Tesco's £5 monthly charge for deliveries undercut Amazon's fee of £6.99 - even without taking into account the £79 Prime membership.