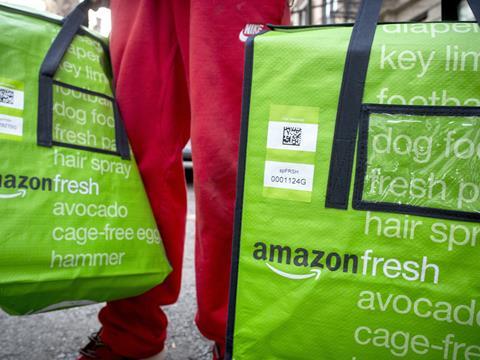 Amazon seems set to push the 'go' button on the UK launch of its Amazon Fresh grocery service imminently, with suppliers reporting listings with Amazon Fresh from mid-May and delivery trial runs taking place over the past month.
Amazon has been working on the launch of the hotly anticipated service for months, but work on the plans seemed to have slowed in the wake of media leaks about the launch last year.
However, industry sources are saying activity has now ramped up again, with a number of suppliers being asked to participate in trial delivery runs to the Amazon depot in east London in the past month. "It seems Amazon wants to get off to a good start by running these test deliveries," said one source.
Listings with Amazon Fresh are also being reported, with chilled meals start-up Bol saying its new salad bowls will launch with Amazon Fresh on 18 May. Another supplier said he expected a "soft" launch of Amazon Fresh in May, with a full rollout to follow in June.
Amazon has been stepping up its grocery efforts more generally, adding new lines to its existing Amazon Pantry and Amazon Prime services and promoting them more heavily to UK consumers. In February, it announced a major supply deal with Morrisons, which will see the retailer supply fresh, frozen and ambient products to the online retail giant. The Morrisons range is also believed to go live in May.
Amazon Fresh will be distinct from Pantry and Prime, and is expected to offer a much broader basket of grocery items than the convenience-focused Pantry and Prime.
Amazon declined to comment.