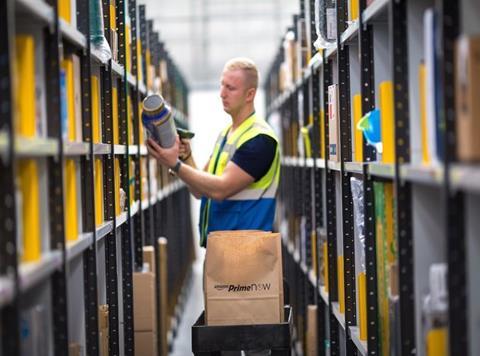 Amazon has extended its express Prime Now delivery service to new postcodes in North London and the East of England.

Prime customers in St Albans and Stevenage can now pay £6.99 for one-hour delivery on a range of 15,000 products including nappies, coffee and fresh milk.

And customers in Edgware, Enfield and Watford can now access two-hour, same-day delivery slots between 8am and midnight, which are free of charge for Prime members.

Amazon has been rapidly expanding its Prime Now offering since its launch in London last June. The express delivery service is now available to more than 30% of the UK population, including postcodes in Surrey, Birmingham, Newcastle, Manchester and Leeds.

A large number of grocery products are available to order, including fresh fruit and vegetables, alcoholic drinks, ice cream and frozen pizza.

According to Amazon, the most popular purchases on Prime Now so far this year include bottled water, milk, baby wipes and Pepsi Max.