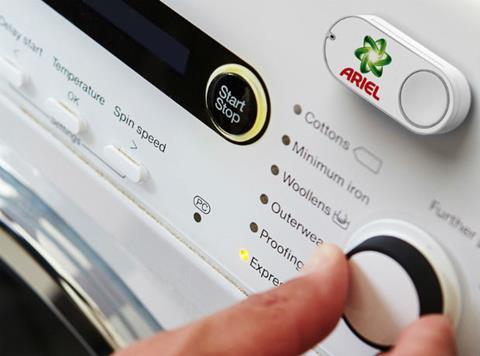 Amazon has extended its Virtual Dash Button Service.

The move will enable third parties to create Dash buttons and display them inside their own devices with screens.

The virtual buttons - shortcuts that allow Prime members to quickly find and reorder products - first launched on the online giant's mobile app and website in January 2017.

Announcing the move, the retailer also revealed that further big names had joined its Dash Replenishment Service - a system that measures supplies of consumables and automatically reorders items that are running low.

HP and Epson were in the process of developing printers that automatically reorder ink, while coffee maker Illy had engineered an espresso and coffee machine to track capsule usage and help with the reordering of pods, the online giant said.

"We've all felt the frustration of realising we're out of something we frequently use, so it's no surprise customers are loving the convenience of Dash Replenishment, which makes shopping for everyday consumables completely disappear," said Amazon vice president of Smart Home Daniel Rausch.

"Dash Replenishment takes advantage of smart, connected products, enabling a device to track supply usage so a customer never runs out of what they need." Amazon's physical Dash buttons debuted in the UK in 2016. They use wi-fi technology to place an order with just one press - brands including Bold, Nescafé and Head & Shoulders are among those on board.