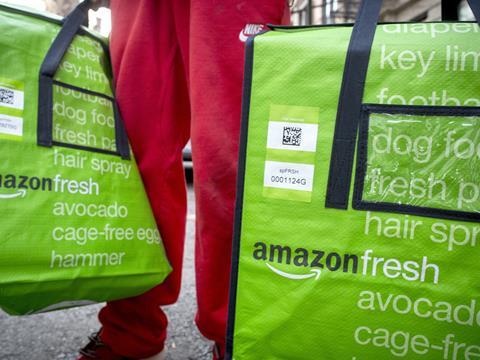 Online giant Amazon has taken the first steps in its programme to move into fresh grocery with the trial of a new one-hour delivery offering for 50 chilled food lines in Birmingham.
Launching the new offering on Tuesday (29 September), Amazon said it was an extension of its existing Prime Now service, and would initially comprise around 50 chilled food items.
The online retailer originally also told The Grocer it was launching the same offering in London at the same time, but later corrected itself saying the chilled Prime Now offering would be Birmingham-only for the time being and "London will be further down the line".
Amazon, which has been the subject of intense speculation for months about the plans for its Amazon Fresh food delivery service, appeared to be launching the Prime Now chilled trial without fanfare.
"There will be no press release or announcement as they are testing the supply chain before it becomes overwhelmed," said a retail source.
Plans for a full-scale rollout of Amazon Fresh this month have been delayed but the Prime Now trials are being seen as the first steps towards offering more chilled grocery items next year.
Rumours of the UK launch of Amazon Fresh have been circulating since July.
Its launch could be a key development in a rapidly evolving online environment. Earlier this week, discounter Aldi revealed it was dipping a toe in the e-commerce market next year, with plans to sell wine by the case from early 2016 followed by non-food 'special buys' later in the year.
Amazon's arrival has long been viewed as a major disrupter to the traditional UK grocer's online operations. However experts say the company will face its own huge logistical and competition challenges, despite it having already launched the Amazon Fresh model in the US.
"Unlike its launches in various American cities, the playing field in UK online grocery is not a clear one for Amazon," said Conlumino MD Neil Saunders. "It will have to tackle, and bring down, some giant players if it is to thrive."
"Prime Now customers already benefit from ultra-fast delivery on everything from essentials like bottled water, coffee and nappies to must-have products like the latest video games and devices," said an Amazon spokesman. "We are excited to be adding a range of chilled and frozen items to this selection as we continue to expand the number and variety of products that can be ordered for delivery within 60 minutes."