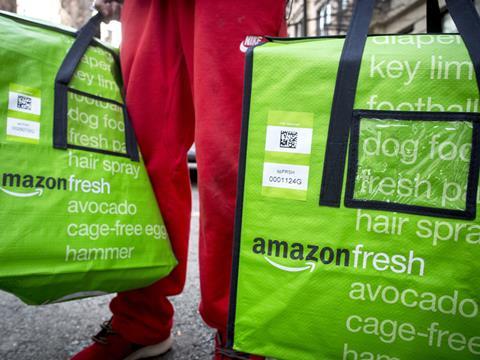 Amazon's UK grocery business will never be "mass market" and will gain 3% market share at best, analysts at Bernstein have concluded.

Amazon's online grocery offering was unlikely to ever pose a serious threat to the big four supermarkets, Richard Clarke, vice president of European food retail at Bernstein, said, with the online giant set to gain a share of just 2% to 3% of the UK food retail market over the next five years.

The existing online offering in the UK was "very good", Clarke said, and Amazon would find it difficult to attract consumers to its service, which was largely based on a subscription model. "I think they've thrown themselves a bit into the deep end in the UK because it's a market where online food retail has proved viable."

It was not clear the Amazon Fresh model in the US, which carries a $299 annual fee for a full home delivery service, would work in the UK, Clarke added, saying: "There aren't a lot of people who around the beginning of the year will have that money to spend on groceries, let alone simply the right to buy groceries."

Ocado Smart Pass offered the same service at a cheaper price, he pointed out, with added benefits of priority delivery and discounts on brands. Demand for a more expensive Amazon service was likely to be "niche", he said.

But Clarke acknowledged Amazon was tapping into a "shift" towards online shopping in the UK, and said the big four "wouldn't want to underestimate" its potential. They would "watch Amazon very carefully" and could replicate offerings such as the Prime Now one-hour delivery service if it proved popular, he predicted.

Meanwhile, Amazon's big UK grocery push appears to be subject to further delays, following its landmark agreement with Morrisons in February to sell hundreds of the supermarket's fresh, frozen and ambient own-label products.

At the beginning of May, Morrisons CEO David Potts revealed it had supplied Amazon with 800 ambient grocery lines, which he expected to go on sale imminently.

Shortly afterwards, Amazon erroneously listed a number of Morrisons lines such as bananas and milk with sky-high prices. The products were quickly removed from the website after the mistake came to light.

As The Grocer went to press there were still no Morrisons products listed on Amazon.

The online giant was also expected to launch Amazon Fresh in the UK during May, but this also has yet to materialise.