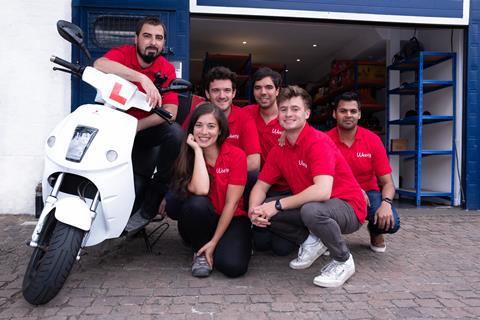 An app-based supermarket that promises groceries within 15 minutes of ordering has started delivering in London, after securing £1m pre-seed investment.
Weezy has established its first fulfilment centre in the capital, which will serve customers in Fulham and Chelsea. There are plans for up to 15 more across the capital by the end of next year.
The app-based operation sources groceries from a handful of wholesalers as well independent bakers and butchers, with fresh fruit & vegetables from New Covent Garden Market. Around 1,200 SKUs are available, with the service seeking to ramp up to 2,000.
Orders are picked and packed at the fulfilment centre and delivered to customers on electric mopeds or bicycles within a quarter of an hour. The service runs between 10am and 10pm every day, and charges £2.95 for delivery.
The startup said it would be competing directly with major supermarkets, convenience stores and Amazon Prime, and was targeting "health-conscious yet time-poor professionals and parents".
"We know that people are actively looking for simpler, faster new ways to shop and we've seen it first hand: Weezy only just opened for business, and already we've had hundreds of signups without having publicised our launch," said Weezy co-founder and CEO Kristof Van Beveren, who started building the app late last year. "Those signups are more than doubling week on week. In the current climate it has become less viable, and even less appealing, for consumers to visit stores.
"Our hyperlocal fulfilment centre model works since we are able to optimise the space for fast picking and packing while having low property and fit-out costs. This allows us to offer the fastest grocery delivery service in London while keeping prices affordable," he added.
Backers include Heartcore Capital as well as 20 angel investors – among them former Ocado head of retail Jon Rudoe, who as digital and technology director at Sainsbury's founded Chop Chop and SmartShop; and Onefinestay co-founder Greg Marsh, an early backer of Deliveroo.
"We had long been looking to back a company reinventing convenience groceries in our digital age," said Heartcore partner Yacine Ghalim. "When we met Weezy, we were immediately convinced that they not only had the superior model, but most importantly exceptional potential as founders. It was love at first sight."