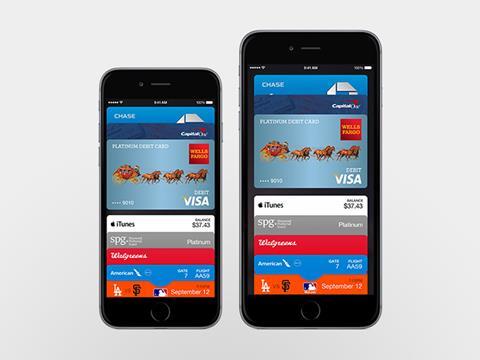 Apple is hoping to make shoppers' lives easier with the launch of Apple Pay, a new "secure" way to pay for physical goods and services – as well as apps – through their iPhones.
Apple Pay was announced yesterday alongside a raft of new devices including the iPhone 6, iPhone 6 Plus and Apple Watch.
The new system allows iPhone users to make payments by holding their phone to a contactless reader while keeping their finger on Touch ID, a fingerprint identity sensor. The shopper does not need to launch an app or even unlock the phone.
"With Apple Pay, you can also make one-touch purchases within apps, without having to enter credit card or shipping information," said Apple. "All payment information is kept private, encrypted and stored securely in the Secure Element, a chip inside the new iPhones."
Credit and debit card data will not be stored on the device or Apple servers, the company said; instead a unique, encrypted number will be generated for each transaction.
Apple Pay will be available in the US from October 2014, but "work is underway to take it worldwide in the near future", Apple said.
The service will work with American Express, Visa and MasterCard credit and debit cards, while retailers in the US that have signed up to support Apple Pay on launch include Whole Foods Market, Duane Reade, McDonald's and Subway.
The system marks Apple's first foray into Near-Field Communications (NFC) technology, which allows smartphones to communicate wirelessly with smart payment terminals. It has been a mainstay of rival Android, BlackBerry and Windows Phone devices for some time, but Apple has until now resisted adding it to its phones.
Apple Pay will compete with other 'mobile wallet' systems such as Google Wallet.
The iPhone 6, boasting a larger 4.7-inch screen, and the iPhone 6 Plus, with a 5.5-inch screen, will go on sale in the UK on 19 September.