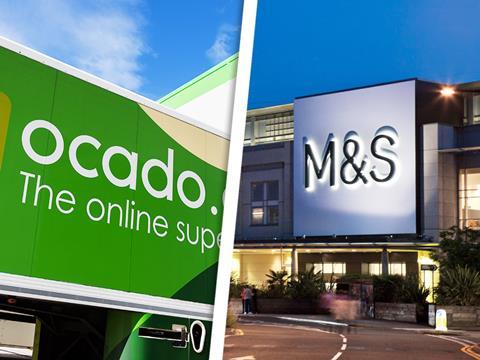 If one thing unites analysts in their responses to reports of an Ocado and M&S tie-up, it's scepticism at accompanying theories as to the deal on the table.
Top executives from the two retailers have held talks over a deal which could see M&S buy CFCs, freeing Ocado to focus on selling technology to supermarkets globally, The Mail on Sunday reported.
Talks? Quite possibly. Both companies have declined to comment on the reports while stopping short of dismissing them outright. Talks about M&S taking over Ocado's UK retail business? No.
"I'd see it as extremely unlikely that Ocado would sell CFCs to M&S and that M&S would want to own and operate these," says Lisa Byfield-Green, senior retail analyst at LZ Retailytics. "M&S is in the process of simplifying its operations as part of a turnaround and this would add far too much complexity."
Retail analyst Nick Bubb is equally unconvinced. "I find the whole story very confusing. I'd be amazed if Ocado just dumped the whole retail operation onto M&S. I can see the talks leaked prematurely but it would be helpful if the two companies put out some sort of statement to clarify what's going on."
Others dismissed the notion of M&S replacing Ocado partner Waitrose when the upmarket supermarket's deal comes up for renewal in September next year. "That seems unlikely as Waitrose brings buying volumes on branded products that M&S could not," says Bruno Monteyne, senior analyst at Bernstein.
"An Ocado and M&S deal would not necessarily spell doom for the Waitrose partnership," adds Jonathan De Mello, head of retail consultancy at Harper Dennis Hobbs.
A deal would be good for M&S, lacking as it does any scaled online retail operation. But the extent of it would likely be limited to M&S taking capacity at Ocado's Erith CFC, as Morrisons does to fulfill orders taken on its own website. The deal with Morrisons excludes Ocado from partnering with Tesco, Sainsbury's, Asda, Aldi and Lidl, but not M&S.
"Ocado has excess capacity and M&S could share this in order to offer home deliveries in London," says Simon Mayhew, head of online retail insight at IGD.
But even that raises the quesiton of how M&S would encourage big enough orders to cover fulfilment costs.
"You would expect M&S to also offer a large selection of non-food items to try to increase the average order size, to cover the costs of picking and fulfilment," says Mayhew.
A second possibility is that M&S's range will not be sold through its own website but simply added to Ocado's offering. "Since M&S only offers 7,000 products, I believe it is more economically viable if Ocado carriers M&S food," says Brittain Ladd, founder and CEO of Six-Page Consulting.
Monteyne has yet another theory, pointing to the possibility of the deal being linked to a new fulfilment service from Ocado suited to the smaller basket. He says M&S could either take capacity at Erith capacity or be "a launch customer for the immediacy-grocery concept that Ocado is working on".
Ocado revealed plans for a faster same-day delivery service in a trading update last year.
The retailer is likely to face plenty of new questions on the service, and the reported M&S tie up, when it makes its new trading statement next week.