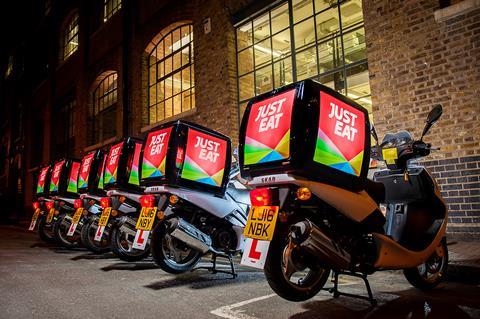 Developing a profitable online fulfilment business is a huge challenge for grocers – the organisational resources and technical capabilities required are immense. Only the large retailers can afford to develop their own offerings, and even then, they might not find the efficiencies to make it worthwhile.
As I've previously written about, a key to winning in this challenging environment could well be partnerships. Most recently I was fascinated by the expansion of the Asda and Just Eat relationship. Originally in place to deliver freshly cooked pizzas from Asda stores, the partnership now allows customers to actually order their groceries from the Just Eat app, with which they may well be already familiar.
Clearly the pizza trial must have enjoyed a certain level of success to incentivise Asda to progress to what could be a true disruptor to the online grocery market. Offering delivery of groceries from 100 lines within 30 minutes of order, the partnership creates an online proposition that actually has a chance of meeting grocery missions that are yet to be satisfied online – that's to say convenience missions.
Asda, however, wasn't the first mover in this direction, as Co-op has been partnering with Deliveroo since last year. The Co-op's focus is narrower, focusing on beers, wines and spirits, snacks and confectionery, but it's clearly a route to market with huge potential. Amazon is also attempting to invest in Deliveroo, although the Competition & Markets Authority has requested a pause to this integration.
What these manoeuvres indicate to me is that, thanks to the longer-term shopper trend of higher frequency and smaller baskets, consumers are now incredibly comfortable with using a variety of providers (including retailers, meal kits, specialists and delivery services) to satisfy their food and beverage needs.
The key players in the food delivery business – Uber Eats, Just Eat and Deliveroo – are now becoming an important part of the supermarket/grocery delivery ecosystem. The consumer demand for use of these delivery brands is massive and growing. Food delivery was worth £8.1bn in 2018 – up 13.4% year on year – and contributed to 8% of the foodservice market [MCA Foodservice Delivery Report 2018].
Consumer behaviour when using food delivery apps is a mixture of discovery and intent, whereas online grocery tends to be intent-driven. Grocers and supermarkets that can tap the discovery equation and capture attention stand to benefit. For example, scrolling through the Just Eat app and seeing that Asda is an option could potentially attract new customers and a higher frequency of ordering.
Partnering with food delivery operators clearly works – the Co-op expanded its trial from Manchester to London earlier this year. These tie-ups demonstrate once again your new competitive set is now the best consumer experience that your consumer has ever enjoyed.
Just Eat, Deliveroo and Uber Eats are technology businesses that have created new expectations for hungry consumers. It makes sense to leverage their capabilities – both front end and back end – to give your shoppers what they want in the way they want it.