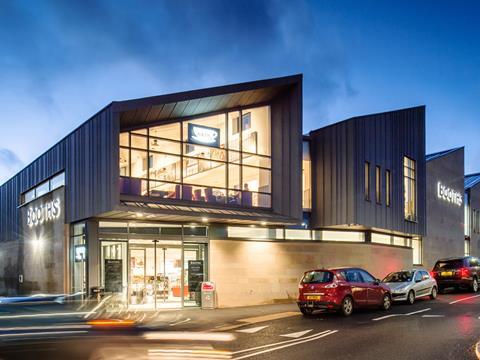 Booths has installed Amazon Lockers at 15 of its 28 stores, with plans to install three more, extending its partnership with the e-commerce giant.

Amazon Lockers have been installed at Booths stores in St Annes, Media City, Knutsford, Longton, Ilkley, Hesketh, Burscough, Ripon, Fulwood, Penwortham, Lytham, Garstang, Clitheroe, Hale and Poulton. Over the next month they will also be installed its Kendal, Barrowford and Carnforth stores.
The self-service lockers allow customers to collect their orders with a code sent via email. Those at Booths' Clitheroe store have been named Eddy after Booths' founder Edwin Booth and the supermarket's mascot Eddy Teddy.

"This is a great addition to Booths. It means that customers who shop online at Amazon can use the secure…lockers to pick up their packages at their local Booths store," said Abby Talbot, head of own label at Booths. "This will have a positive impact on the communities around our stores as having easy access to an Amazon Locker means that people who aren't in their homes for the majority of the day can order online, with the reassurance that they can collect their items in store, at a time that suits them."

The plans are part of Booths' drive to raise its profile across the UK, and follow its partnership with Amazon Fresh for a same-day, one-hour slot delivery service for a range of its products to customers in the south. Products eligible for the delivery service, introduced in November 2017, include confectionery, ready meals, deli meats and desserts.

The service is available to 302 postcodes across London, Surrey, Hampshire, Bedfordshire and Hertfordshire, and marked the first time Booths has sold an extensive range of its products online. It has previously only offered a full home delivery service around Christmas.

It also has a year-round online service exclusively for gifts.

The retailer has seen its trading profits plummet in recent years. It reported losses of £14.8m for the year ending December 2017, twice as much as its £6.3m 2016 figure. It hired investment bank Rothschild to find a buyer, with Amazon understood to be the frontrunner for a takeover of the family-run business.