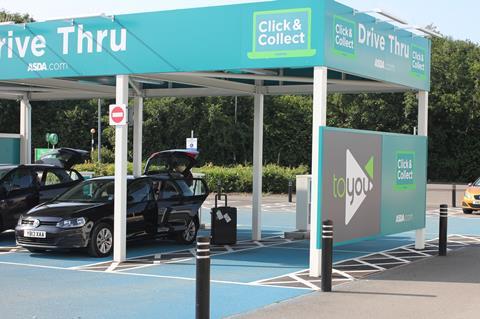 Post-lockdown we've spent a lot of time looking at the different search trends to try and differentiate between short-term trends and actual changes in behaviour. I've previously written about how we've defined these as shock, step-change or accelerated trends – and online grocery is a trend we can confidently say sits somewhere between step-change and accelerated.
Kantar's September market update had online sales up 77% on the same four weeks last year. The sustained level of growth we've seen over the past few months has made online worth 12.5% of total grocery sales. Combining the current uncertainty in the UK with the launch of the M&S/Ocado tie-up, this is no doubt set to continue.
Alongside this, however, the continuing challenge of profitability remains for all grocers when it comes to online. Surging demand does nothing on its own to solve this challenge, and whilst efficiencies will no doubt be gained from fulfilling this demand, for most grocers it still remains an infrastructural challenge to make it economically and operationally viable. This is where click & collect becomes such an attractive option.
France and the US are good examples of where grocery click & collect has evolved to suit consumer behaviour. Online grocery in France is often considered less mature than the UK market, and when comparing home delivery this is so, but their click & collect model known as Drive is much more mature. A model that has been adopted by almost all major grocers and used by nearly a quarter of all households, Statista reports it now accounts for 3.5% of all sales. That is less than the 4.7% of home delivery – but click & collect is expected to overtake that option in the next couple of years. Similarly, click & collect is a model used more heavily in the US – somewhat expected given the often large distances involved, which make grocery delivery challenging. Click & collect or curbside pickup is a staple for many of the largest retailers in the US.
So why isn't it a mature consumer behaviour in the UK specifically for groceries? Statista reports 80% of shops offered some form of click & collect and whilst in apparel, home and many other categories it is common, consumers haven't taken it up as one might expect in grocery. All major grocers offer the service, averaging between 200 & 500 collection sites across the UK, and Aldi recently became the first discounter to offer click & collect groceries which, with no online grocery offering, offers a good entry into the online ordering market.
Of course in the short-term, the opportunity to use a click & collect service during the uncertainties of a global pandemic is hugely attractive for consumers, and the length of our 'new normal' in terms of lockdowns may play a significant role in how much the behaviour sustains. Depending on what you read, it can take anywhere from 18 to 254 days for a person to form a new habit, and thus click & collect could absolutely become a new normal, in particular as online demand surges in rural and suburban areas with convenient pick-up locations and fewer traffic concerns.
One certainty is that the increased demand for online grocery is here to stay across all regions and demographics. This is a huge opportunity for grocers both in terms of making delivery more profitable and simply convincing consumers to order online and collect in store. As ever, execution will be key, and it will be interesting to see how this evolves over the coming months and years.