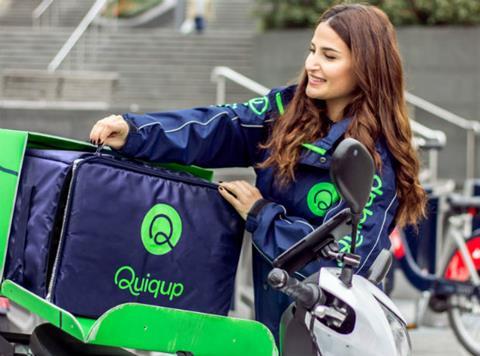 Back in 2011, people laughed at The Apprentice star Tom Pellereau when he suggested the idea of an 'emergency biscuit'. His business nous told him that when people needed biscuits, they needed them fast – and they would be willing to pay a premium. Oh, how Twitter laughed. Pellereau persisted. "I still think the emergency biscuit is a great idea," he insisted in an interview, shortly after winning Lord Sugar's backing. But no amount of tycoon endorsement or righteous pleading could help his case – his idea was consigned to the realm of the ridiculous.
How Tom must be laughing now. Because in today's fast-paced world, almost everything is an emergency. The Amazon Prime Now service will deliver everything from cookies to coconut oil to you in the space of an hour, for a delivery fee of just £6.99 (plus optional service charge). Sainsbury's and Tesco have launched their own one-hour delivery services for when you need dinner fast, and presumably it is just too urgent to walk to the nearest shop. Now Hellmann's has launched a range of emergency burgers, quinoa salads, fish skewers and wedges.
Granted, emergency burgers may not be their official name, but that is essentially what they are. By partnering with third-party courier service Quiqup, Hellmann's promises to deliver the ingredients for burgers – or fish skewers, or dukkah-dusted wedges – within 60 minutes. All of the food is Tesco own brand except – you guessed it – the Hellmann's sauces.
On the face of it, the initiative taps all the right trends. People are demanding everything quicker, and at minimal effort. So offering a speedy delivery service combined with easy recipes (and a YouTube video showing you how to make them) seems a winning combination. Plus, the use of Tesco own-brand products suggests Hellmann's is piggybacking on the existing Tesco Now initiative (the 60-minute delivery service in London) so we can presume the brand is paying minimal costs. Hellmann's is clearly aware of the need to appeal to a younger consumer, as its press release is littered with words like "millennial audience" and "digitally savvy".
But will the next generation really flock en masse to buy emergency burgers they have to cook themselves? Prices aren't exactly cheap, at £18 for ingredients that look like they will make a minimum of four burgers. If they're feeling peckish, wouldn't it be cheaper – and even quicker – to order a pre-made burger from Burger King (also partnered with Quiqup)? Or, if they're feeling a bit more millennial, a Byron burger through Deliveroo?
It's one of those ideas that pushes all the right buttons in theory – but will it really translate in practice? The recipes look undeniably good, but however much people want quality, home-cooked grub over a takeaway, it is difficult to imagine this idea generating many orders beyond the initial novelty factor. Then again, perhaps Hellmann's is the Tom Pellereau of today. And in five years' time, it may be having the last laugh.