Many pubs and restaurants are turning to delivery services to keep trading – but turning a profit is more complicated than it may at first seem
Reinventing your business is one thing. Reinventing it in the space of 10 days, while in the midst of a global crisis, is quite another. But for Bite Me Burger in Marlborough, there was no alternative.

Faced with a dwindling clientele on the second weekend of March, founder David Michaels realised he had to take rapid action before the UK went into lockdown. "We realised if we were to be able to trade, we would have to do something pretty dramatic," he says. "It was either shut down everything or adapt." So in the third week of March - just as pubs and restaurants were forced to close their doors - its burger delivery service was born.

Bite Me Burger's delivery service is now turning a profit, which should be encouraging news for the hospitality sector. Because as lockdown drags on, delivery represents a vital means of trading for restaurants and pubs. Establishments up and down the country are turning their hands to the takeaway game. Deliveroo says 3,000 more restaurants signed up to its service over the course of March.

Appetite appears to be there from consumers, too. More than eight in 10 Brits said they would order in food and drink during the lockdown period, found a survey of 2,000 consumers commissioned by catering training service High Speed Training at the end of March. And 71% agreed deliveries from their local pub or restaurant could be considered an essential service during the pandemic.

On the face of it, it's a no-brainer for the hospitality industry. But at the same time, chains such as Wagamama, Pizza Express and McDonald's have suspended their delivery services - because they cannot make takeaway work without the regular restaurant trade.

So how much of a lifeline can deliveries be for pubs and restaurants at this time?
"Domino's is synonymous with pizza delivery. Many of the independent pubs and restaurants don't have those top-of-mind associations"
Legally, it is easy. Just before lockdown began, the government announced that businesses no longer needed to apply for planning permission to operate takeaways during this period. Instead, they simply have to tell their local planning authority. Melanie Williams, head of hospitality at law firm DWF, says those relaxed rules will stay in place for a year.

The challenges lie elsewhere in the process. Newcomers to the scene are competing with established names in the takeaway business. "Domino's says business is accelerating, and that's to do with the power of the brand," says foodservice consultant Peter Backman. Because love it or loathe it, the Domino's name is synonymous with pizza delivery. By contrast, many of the independent pubs and restaurants don't have those top-of-mind associations with consumers.

That isn't a problem for all businesses. Bite Me Burger was lucky in that competition is scarce in Marlborough. "There are very few deliveries in the area - not even a Domino's - so there was a real opportunity," says Michaels. So it could afford to take a local approach to marketing. "We took space in all the local newspapers, online and offline, and did a leaflet drop before it was banned," he says. "We also did a deal with the local newspaper that we would be the only restaurant allowed to advertise on their online portal."
Online platforms
Not everyone is so lucky, though. Restaurants and pubs in urban areas, in particular, are competing against a raft of experienced takeaway operators. For them, the only way to generate real volumes is to partner with an online platform such as Deliveroo, Just Eat or Uber Eats.

But this help comes at a cost - and a hefty one at that. Deliveroo charges between 27% and 35% commission on orders. "Once you've paid that sort of percentage, you suddenly find that the little bit of additional business from delivery just covers the costs of the food and labour, so why bother?" says Backman.

True, these companies are making their rates more competitive at this time. Deliveroo remains tight-lipped about its commission, but reveals it has dropped its 'onboarding fees' for new restaurants. That comes alongside practical help such as online marketing tools to help restaurants advertise their new delivery services, and guidance for running delivery-only outlets safely.
"We are here to deliver for restaurants who want to carry on offering their amazing food to families at home during this difficult time"
"We are here to deliver for restaurants who want to carry on offering their amazing food to families at home during this difficult time," says Deliveroo CEO and founder Will Shu. "We are working closely with restaurants to optimise their operations and we are doing everything we can to make sure people still have access to the food they want and need."

Meanwhile, Just Eat has unveiled a £10m emergency support package to support independent restaurants during the pandemic. That includes the removal of sign-up fees, a 33% rebate on home delivery commission, and a full 100% rebate on commission for collection orders.

Uber Eats has similarly looked to ease financial pressures by waiving delivery and activation fees until the end of March. "The high street is being hit hard by coronavirus but the sector can play a critical role in helping the thousands of people who rely on it - for work and as an essential service - during this difficult time," said Uber Eats UK general manager Toussaint Wattinne in a statement at the time.
Keeping business going
Even with this help, though, many restaurants are struggling to make money. SpiceBox in Walthamstow is a case in point. The vegan Indian restaurant started offering deliveries for the first time as the pandemic hit, having previously offered only a click & collect service.

Business is booming - the kitchen typically receives over 100 orders a night on Fridays and Saturdays - but that doesn't necessarily translate to a profit. Founder Grace Regan says that is largely down to the commission taken by delivery partners. "Even at serious volumes it's hard to make money," she says. "We're breaking even and it can be profitable - we're just taking each day as it comes." That's not a problem for Regan, whose main goal is to keep her business going, rather than to make money. "We said we would trade as long as we could," she says.

Others are thinking along the same lines. Brian Keeley-Whiting, MD of the Whiting & Hammond chain of pubs, made the decision to offer takeaways in the first weekend of lockdown, as a means of honouring Mother's Day bookings. Even without using an online partner - word of mouth was enough to drive orders, which Keeley-Whiting delivered himself - the numbers didn't add up.

"We did 324 meals out of our Chaser Inn site and we only took £1,700 so clearly it wasn't a profitable thing to do," he says. At the same time, he had staff members who had only recently started working for the chain, and weren't eligible for furloughing. "We wanted to keep them so we said, what do we do? So we looked at where a takeaway would fare quite well, and made that call on where there were most chimney pots." That led to the decision to concentrate all of its efforts on its Rose & Crown pub in Orpington.

There were logistical challenges. There was no way of keeping the staff two metres apart in keeping with social distancing guidelines. So the kitchen team had to move into the Rose & Crown premises to reduce the risk of spreading infection. The takeaway service still isn't generating a profit. But for Keeley-Whiting, that's missing the point. Not only is he keeping on staff and using up stock, but more importantly he's serving the local community.

"We had a call from someone whose mother has dementia and they can't get to her and they wanted to set up a regular meal and a sandwich at lunchtime," he says. "That's the bit you might forget. There are older people who can't get out."
"We have received cards and phone calls from the elderly saying that it brightens their week and gives them something to look forward to"
The Hampshire Arms in Crondall is taking a similarly altruistic approach. Its takeaway service has quickly developed into an important part of local life. "It was just a case of running down stock to begin with, but it soon became apparent that we were serving a purpose in the community," says landlord Charlie Turnbull. That was particularly true for local volunteer group the Village Pump, which looks after more than 100 elderly people in the area. "They usually hold their coffee mornings in the pub. However, as they couldn't this month, we made 54 portions of scampi and chips and the volunteers delivered them out to the senior citizens that were isolating," says Turnbull.

The pub is now providing that service on a weekly basis. "The response has been overwhelming," Turnbull adds. "We've received cards and phone calls of thanks from the elderly saying that it brightens their week and gives them something to look forward to."

There is a business advantage to this, too. Because while independents such as The Hampshire Arms are starting delivery, many of the chains have put their services on ice due to the difficulties involved. That's why Deliveroo has seen a "significant decline in revenues" since the coronavirus hit - earlier this week, it told the CMA that Amazon's investment was crucial to its survival - despite the increase in sign-ups from independents.

"Casual dining chains have taken a step back and smaller players have increased their share," says Kate Nicholls, CEO of trade body UKHospitality. "The people who have come forward are smaller entrepreneurs who are more nimble, have more control over their premises and can make those decisions more rapidly."

By providing food at a difficult time, these businesses could build loyalty among local communities. "Many of them will certainly spot an opportunity," adds Nicholls. "Whether or not that represents straight competition with chains depends on the offer and the ability to ride the storm."

Either way, the crucial message here goes beyond just profit. Because takeaways aren't just a lifeline for the hospitality industry - they are a lifeline for the communities they serve, too.
From pub quizzes to wine pairing: 10 very different ways of offering a takeaway service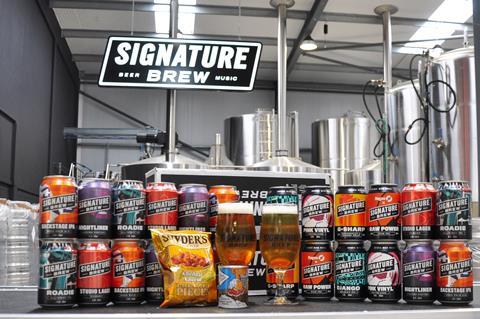 The pub experience
Pub in a Box
Bringing the pub experience to locked-down consumers is the main aim behind this delivery service. East London brewery Signature Brew has boxed up the key ingredients for a night out in your local: its core range of beers, beer glasses, beer mats, a vinyl record, a pub quiz, snacks, and even a Spotify playlist curated by music journalists.

For an extra special touch, the brewery is employing musicians who have had their tours cancelled to carry out local deliveries.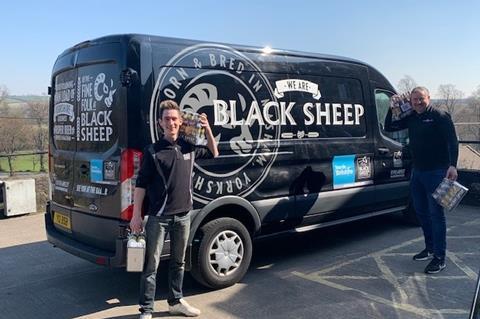 Beer and food
Black Sheep Brewery
This North Yorkshire brewery was determined to keep going during the pandemic. Not only is it offering deliveries of its beer - in the form of bottles, cans or a four-pint carry keg - but it has also started up a takeaway food service.

Chefs at the brewery in Masham are preparing freshly cooked food, including a selection of starters, main course and desserts, for customers living in the town and surrounding villages.
Orders are being delivered by the Black Sheep team.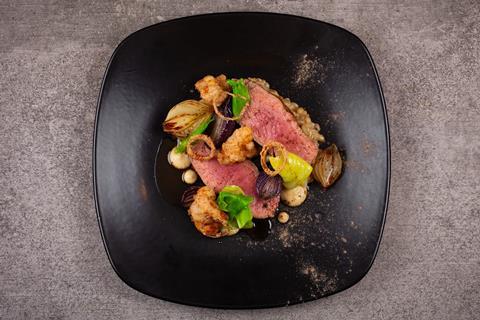 Scottish fine dining
Wedgwood
High-end dining need not be put on hold during the pandemic. At least not for customers in the delivery radius of Wedgwood in Edinburgh, famed for dishes such as five-spiced Shetland salmon and Inverness-shire venison.

Owners Paul and Lisa Wedgwood have reported consistent sell-outs of its takeaway service, which runs from Thursday to Sunday. In the last weekend of March, the husband-and-wife team delivered more than 200 main courses to over 100 homes with the help of a freelance rider.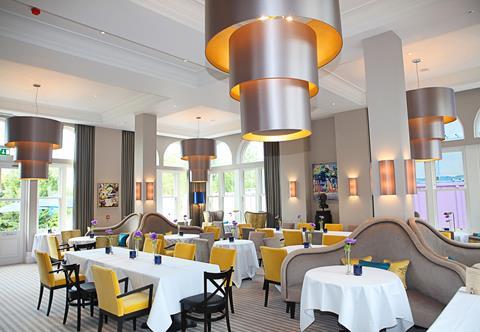 Retirement service
The Orangery
Before the coronavirus took hold, The Orangery was a bustling restaurant in the Audley St Elphin's Park retirement village in Derbyshire. The lockdown meant it had no choice but to close its doors - but it wanted to continue supporting its vulnerable customers.

That prompted it to launch a takeaway service for residents of the village, offering everything from light dishes to comfort food such as fish & chips and pies. Already, 80% of the village's residents have placed an order.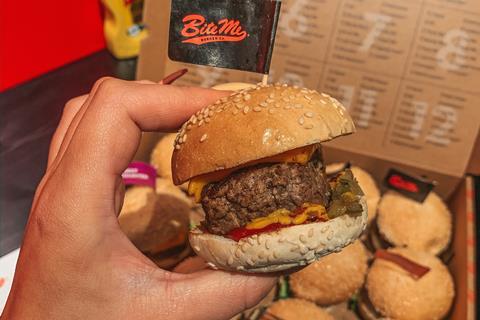 Gourmet burgers
Bite Me Burger
To mimic a famous advertising slogan, these aren't just any burgers. These are gourmet burgers. This hotel restaurant in Marlborough makes its patties using meat from family-owned butcher Aubrey Allen. Shortly after closing its doors, it made boxes of its mini burgers available for delivery to households within a five-mile radius. Variants range from a Lambtastic burger with mint, cumin, and smoked yoghurt, to the Duck Me patty featuring duck meat and truffle mayo.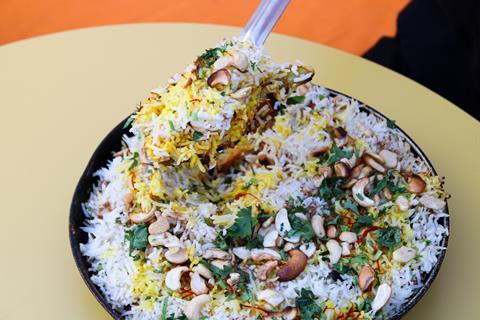 Vegan curry house
SpiceBox
The Indian takeaway is a staple of the British diet. Yet until the pandemic hit, SpiceBox only offered a click & collect service. So founder Grace Regan decided now was the time to set up a delivery service. By partnering with UberEats, she has cultivated a new platform for her dishes, which include jackfruit Jalfrezi and a chana masala with chickpeas.

Demand has gone beyond the regular clientele. On Fridays and Saturdays, the restaurant takes more than 100 orders a night.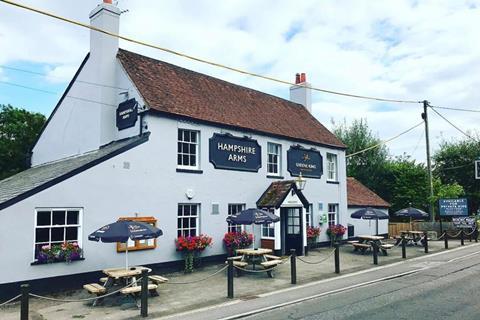 Pub street food
The Hampshire Arms
The Hampshire Arms had a problem: it wasn't the only pub in the area with a takeaway service. So landlord Charlie Turnbull decided to put a twist on the menu to offer a point of difference. Instead of sticking with traditional pub grub, it put a street food twist on its menu with dishes such as halloumi burgers and katsu curry, alongside the old favourites like scampi & chips.

The pub has seen a "phenomenal" response since publishing the menu on its Facebook and Instagram pages.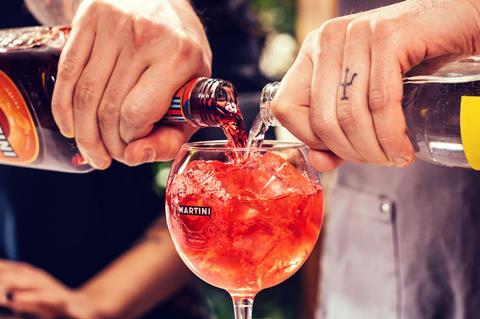 Cocktails to you
Bacardi & Deliveroo
The sun is shining and cocktail hour beckons. But getting the ingredients for your favourite tipple can prove tricky during lockdown.

Step in Bacardi with the launch of its virtual bar in partnership with Deliveroo Editions. Using Deliveroo's dark kitchens, the booze brand has hired bartenders to produce cocktails for delivery in both London and Manchester. Creations include 'Le Golden Highball' cocktail, made with Bermondsey Bees honey and Aberfeldy whisky.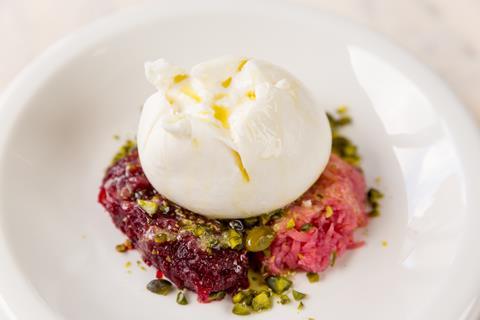 Wine and food pairing
Top Cuvée
Let's face it: housebound consumers are more likely to buy a bottle of cheap plonk for from their local corner shop than fork out for an expensive wine delivery service.

But what if you paired that wine with food? That's exactly what London restaurant Top Cuvée has done with its takeaway operation. Its partner chef Roy Cameron has prepared a selection of healthy ready meals, which are delivered alongside an "eclectic yet concise" wine list to provide a "world-class experience" at home.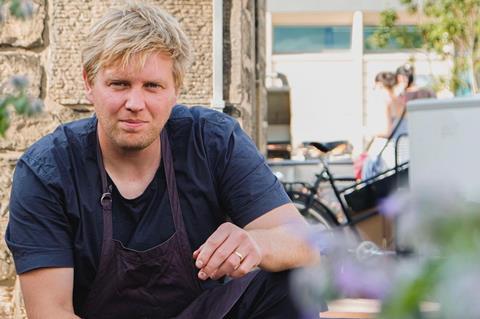 Food boxes
Gardener's Cottage
OK, so this isn't strictly speaking a takeaway service. But this altruistic approach to delivery from the Edinburgh restaurant is still worthy of note.

Prior to the outbreak, the restaurant was known for using local produce in its dishes, which were served at sociable long tables. Although sociability is no longer feasible, the restaurant has maintained its commitment to the local community by distributing boxes of fresh bread, cupboard essentials and veg to low-income families.

Emma Weinbren is managing editor at The Grocer. As second-in-command to the editor-in-chief, Emma is responsible for the day-to-day running of The Grocer in print and leads The Grocer's features desk. Emma won the PPA New Talent Award for New Section Editor of the Year in 2016. Prior to joining The Grocer in 2016, Emma was deputy and features editor at Chemist+Druggist, a weekly magazine and website for UK pharmacists.

Follow Emma on Twitter: @EmmaWeinbren
View full Profile