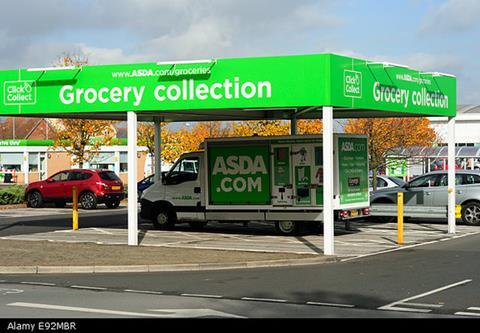 Asda's announcement last week that it would halt plans to roll out click & collect to 1,000 locations by 2018 represents a surprise u-turn by the grocer.

Until now, the number two supermarket has been at the forefront of online pick-up. Not only does it offer click & collect groceries in all 614 of its stores (264 more than rival Tesco); it has pioneered the development of new formats.
Grocery click & collect
Asda
Offers grocery click & collect at all 614 stores and 40 remote locations
Plans to offer service from 1,000 sites by 2018 now shelved
Sainsbury's
Service now available at 75 of its 630 stores, with plans to reach 105 by Christmas
Launched grocery click & collect in March
Tesco
Offers service at more than 450 stores (out of 924) and about 40 community sites, such as schools and shopping centres
First supermarket to launch grocery click & collect drive-through in 2010

Waitrose
Offers grocery click & collect at 171 stores out of 341
Trialling sites along transport network
It was first to trial lockers at Tube stations in 2013. And late last year it boasted of being the first grocer to offer 24/7 pick-up with a soft launch of its 'intelligent pods' located in petrol stations and business parks.

The rapid rollout was a "cost-efficient alternative" to opening c-stores, it claimed. Yet with Project Renewal, the supermarket has pressed pause on expansion, instead opting to refurbish 95 of its large stores.

So why is Asda scaling back its plans? What is the future for click & collect? And what are the challenges of the format?

Popularity

Asda's latest move stems less from a lack of confidence in click & collect than from a need to reprioritise in the face of waning profits, believes Kantar retail analyst Bryan Roberts.

"The vast bulk of Asda's business is generated by its large store portfolio, so investing in rejuvenating large stores makes a lot more sense in terms of return on capital," he says.

Particularly when 95% of UK grocery sales still go through stores, adds senior IGD retail analyst Lisa Byfield-Green.

The move does call into question Asda's assumption that online pick-up could effectively replace the need for a convenience-based "presence on high streets", though, says Martin Newman, CEO of e-commerce consultants Practicology.

"For smaller items such as bread, milk, fruit and ready meals many consumers still pick these up at local convenience stores," he adds. While Tesco, Sainsbury's and Waitrose have continued to invest in and expand their click & collect offerings, they have done so alongside growing c-store portfolios.

Yet the popularity of click & collect shows no sign of abating. Use of the service is expected to grow at a rate of 20% per year, according to a report from online retail association IMRG, with 46% of shoppers saying its availability improves their overall retail experience.

Asda itself has estimated that click & collect orders will treble over the next five years to account for 30% of all online sales (from 10% now). "Click & collect is destined to be a very significant part of grocery online," says Roberts.

Signs of expansion are everywhere. After initially being slow to invest in grocery click & collect (it first offered it in March), Sainsbury's is now "going for it" says director of online Robbie Feather - opening nine sites within a week earlier this month and committing to open 105 sites by Christmas. "It's a market that will continue to grow for us," he says. "If you give the option there are customers who want that service."

In its 2015 Annual Report Tesco said it would "actively seek" to develop its online formats. "We are opening more collection points all the time".

And Waitrose says "more customers are choosing to order online and collect their Waitrose groceries."

More profitable

That said, some formats have proved unworkable. In June, both Tesco and Sainsbury's pulled out of a partnership with Transport for London to install collections points in busy Tube stations and Asda said last week it wouldn't be continuing its trial. Quite simply, stations "don't work," says Feather.

Yet despite these teething problems, Byfield-Green still believes retailers (including Asda) will continue to trial remote locations.

"We do not see retailers moving away from this strategy, simply slowing down the pace of new rollouts," she says. Tesco continues to offer collection from schools, hotels and shopping centres, and Waitrose is still trialling automated lockers. And she argues that the future of click & collect won't be focused in stores.

Click & collect is "more profitable for retailers as it [lowers] the costs of the last mile of delivery," Byfield-Green adds "It is the main model used in several markets including France, the Netherlands and the US."

But while it's cheaper than home delivery, doubts do linger over the long-term sustainability of failing to charge customers enough for the service.

Speaking at the IGD Digital Summit last week, Feather warned: "We've managed to create the world's best online grocery industry yet we've also single-handedly destroyed most of the value in that channel by removing the charge for the work we do, which is picking the product and delivering it."

"We've absolutely got to charge for these amazing services we offer our customers."

Yet Tesco faced a "media frenzy" when it upped its own threshold for free click & collect, from a £25 minimum spend to £40 in July, according to its new MD of online, Adrian Letts.

"It was a tough call," he adds. But "I don't think we have done ourselves a service by not being transparent with customers as to all the things that go into making a brilliant customer shop."

Tesco's own research showed consumers didn't take into account the cost of picking orders, he adds.

With Asda currently offering free click & collect for orders over £25 (and Sainsbury's the lowest among the big four at £20 and over) Phil Wilkinson, Asda senior director for e-commerce, insists: "Leading online is one of Asda's top priorities for the next three to five years, but we need the right structure behind it to help deliver it."

The online team is "no longer a bolt-on or an afterthought, we're right in the core of our business and that's the future of e-commerce for all retailers," he adds.

A future in which click & collect, despite its curtailment, will inevitably play a vital role.