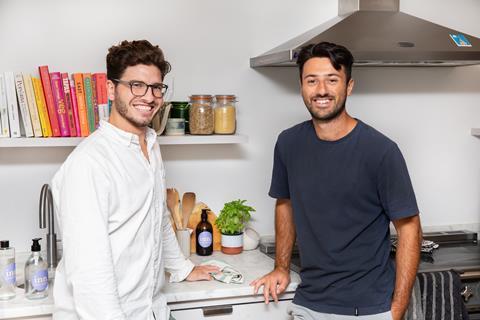 Closed loop online grocery service Inn is to expand London-wide in the first half of this year.
The service – which currently delivers to parts of south west and south east London – will build out a network of cyclists and acquire a new distribution facility as part of its growth plan.
The startup offers around 100 non-perishable and pantry products, which arrive in up-cycled hessian coffee sacks and liquids in plastic spout pouches. It launched in August last year.
The customer takes the order and distils them into their own containers. Empties are collected on arrival of the next order, cleaned and disinfected ready to go out again.
"The packaging is designed to be flat-packed, so it can be rolled up and left under the sink so its not in the way and you don't have loads of empty containers laying around," said Inn co-founder Nick Lawson. "And they don't take a large amount of space when we collect it.
"And if you're paying for an empty box full of containers to come back to you, that's an awful way to waste carbon, to transport air," he added.
The long-term aim was to add perishable and fresh produce to the available range, as well as nationwide delivery. Ultimately, Inn is seeking to take closed loop, minimal waste services mainstream, and hopes to keep prices competitive with the supermarkets.
"You can't do it with just a small slice of the middle class that can afford it." Lawson said. "You need a realistic, affordable alternative to the supermarket."
To achieve this the business was run as efficiently as possible, Lawson said. Behind the scenes the company was working with "smart providers" like Starling Bank to keep costs low. The new facility would be designed to reduce packing time and "make the whole circular economy work better".
Lawson said more consumers were seeking out more sustainable shopping options.
"The pandemic has accelerated the trend and seen how much quicker our bins fill up with packaging waste. There's definitely a trend towards being more sustainable. There's a realisation the way we've always done things is not the way we need to do them now. We're just at the start of a circular economy boom."
Inn joins a growing market of closed loop grocery services. Brighton-based Roots & Hoots last week revealed plans to expand into London. Members-only online grocer Good Club launched a similar service with next-day collection of empties earlier this month. The proposition is similar to that of reusable packaging platform Loop – which launched online with Tesco in July.