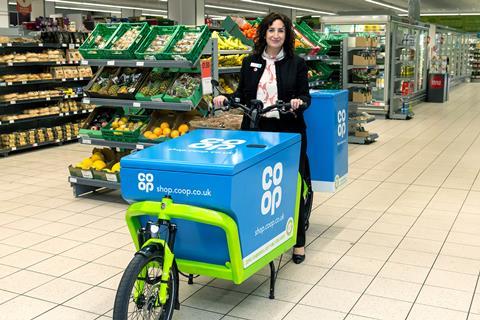 The Co-op is pushing ahead with its rollout of online shopping with the extension of two separate on-demand delivery trials to new stores and areas.
A two-hour electric bike delivery service launched from a branch in London's Chelsea in April has been extended to a second and third store, while Brighton and Milton Keynes have been added to the areas in which Co-op groceries can be ordered from Deliveroo.
Battersea and Putney Co-ops have joined the electric bike trial, which is the Co-op's first delivery service taking orders on its own website, at shop.coop.co.uk. It comes with a £5 delivery charge and a £15 minimum spend, while products are priced the same as in store. A fourth store, in Shoreditch, is due to join the trial next week, the Co-op confirmed.
Revealing the Battersea rollout, Jason Perry, Co-op senior strategy manager of food digital, indicated further expansion was weeks if not days away.
'Pleased to announce online store number two is now live,' he wrote on LinkedIn at the weekend. 'It has been great to spend time with some of our brilliant colleagues in Battersea who can't wait to serve our members and customers in the local area.
'Look out for further developments and expansion in the coming days and weeks.'
Commenting on Putney, Co-op senior digital operations manager George Hayworth wrote today: 'Excited and proud to announce online store number three is now live in Putney. Our amazing colleagues can't wait to pick online orders for our members and customers.'
The separate Deliveroo trial was launched in five Manchester stores last year. By January 2019 it had been extended to 11 branches in London, a number which has since grown to 15 in the capital.
Two further stores, on Brighton's Dyke Road and in Milton Keynes' Monkston Park, have now also joined the trial.
Beer, wines, spirits, confectionery, ready meals and other groceries are available to order on Deliveroo's website in a range including ambient, chilled and frozen. Delivery costs £3, while Deliveroo adds a further mark-up to shelf prices.
In total the Co-op is involved in four trials that could lead to a wider online rollout. In Milton Keynes, the retailer has been delivering by robot since April last year, in partnership with tech startup Starship Technologies. The service launched from the Monkston branch - the same store now also partnering with Deliveroo - before the Emerson Valley Co-op was added in April.
The supermarket is also using taxis and couriers to replace its own vehicle fleet for home deliveries of shopping bought in store. In partnership with software firm Lineten, it could pave the way for the Co-op to further roll out online shopping through its own website.