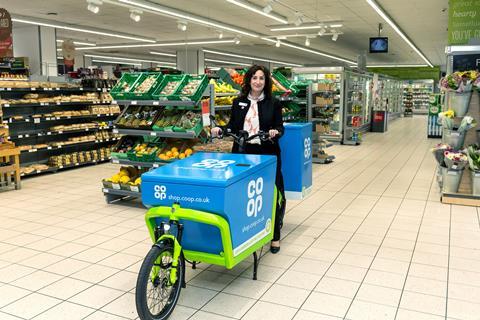 The Co-op has begun selling groceries online for the first time through its own dedicated website.
As of today (22 March), customers can order via shop.coop.co.uk and have their groceries delivered to their door within two hours.
The service has launched from the King's Road Co-op in London's Chelsea, delivering within a 2.5-mile radius, ahead of a rollout to eight more London stores.
"Ultimately there are plans to make online shopping available in a significant number of UK towns and cities," said a Co-op spokesman.
It is the first time the Co-op has launched an e-commerce operation. So far the retailer's only forays into the area have used third parties such as Deliveroo to take customers' orders online and despatch them.
The new service will "initially" use bikes from zero-emission delivery firm E-cargobikes. There is a flat £5 delivery charge and a minimum £15 spend, while products will be priced the same as in store.
A range of 1,500 products is available to order, including alcohol, between the hours of 9am and 10pm Monday to Saturday, and 11am and 5pm on Sunday.
A free click & collect service is also available through the new website, again limited initially to the King's Road store.
The bikes are one of a number of home delivery solutions being explored by the Co-op. In a separate initiative, exclusively revealed by The Grocer last July, eight branches are using a software link-up to taxi and courier firms to offer delivery of shopping bought in-store. It's understood that method could also be used to expand the Co-op's e-commerce reach to new geographical areas.
Meanwhile, 11 London stores and five in Manchester are engaged in the Deliveroo trial, which sees orders placed on Deliveroo's website or app. Yet another Co-op trial in Milton Keynes uses autonomous robots from Starship Technologies, again with orders placed on the delivery provider's app.
"This is an exciting time for the Co-op, with trials underway on a number of new online initiatives," said Co-op head of food digital Chris Conway.
"As the leaders in convenience shopping, we want to look at different ways of bringing our award-winning products closer to shoppers, and this new service does exactly that."
E-cargobikes MD James FitzGerald said: "We are thrilled that a highly respected national brand like Co-op are demonstrating environmental leadership by launching their online delivery service using e-cargobikes. We are reimagining grocery deliveries and exploring a more sustainable transport system with our e-cargobikes that can do the same job as a van while requiring a fraction of the energy."