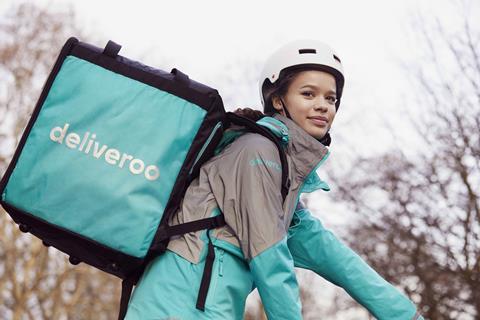 Costa Coffee has launched a delivery service in London using Deliveroo couriers to bring hot drinks and snacks to customers' doorsteps.

Coffees and a selection of items can be ordered for delivery from six London stores in a trial.

Orders are taken on Deliveroo's website or app and despatched in a "new coffee carrier pack designed to ensure optimum product quality on delivery", according to Deliveroo.

A Deliveroo delivery charge of £2.50 is applied to each order.

The stores are in Moorgate, Shepherd's Bush, Rathbone Place, Bethnal Green Road, Essex Road and Tooley Street.
"We know our customers are looking for convenient ways to enjoy great coffee and we wanted to explore how we could satisfy their need for speed and convenience by delivering it straight to their door," said Costa's global digital & loyalty director Arslan Sharif.

"By partnering with Deliveroo we're making the experience easy for people who are at work or comfy at home, looking for their Costa Coffee fix without having to go into a store or visit one of our Express coffee machines."

A Deliveroo spokesman said: "Deliveroo is constantly looking for new ways to ensure customers have access to amazing food and drink whenever and wherever they want it, and so we are delighted to work with Costa Coffee to bring our customers their favourite coffee straight to the door. This partnership will again show people that, on Deliveroo, every option and every occasion is catered for."