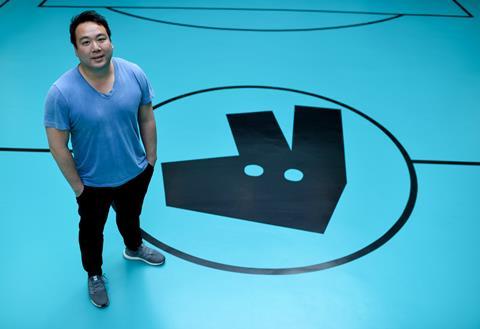 Deliveroo CEO Will Shu has said "elements of the dark store model make a lot of sense" and that he is open-minded about the potential of rapid grocery delivery businesses.
Speaking at Deliveroo's half-year results this morning, Shu said there were elements of the dark store model – which enables apps to offer delivery of grocery items within 15 minutes – that he found "very interesting".
"On the inventory management side, having a dark store with high levels of precision is critical to preventing issues like stock outs," he said. "And because you're in a dark store the pick and pack is more streamlined and faster. From a consumer perspective the proposition is really good. Overall that stuff makes a lot of sense."
While it operates dark kitchens – where takeaway meals are prepared for delivery by Deliveroo in restaurants not accessible to the public – in grocery Deliveroo partners with supermarkets and convenience stores, where staff pick and pack baskets that are handed over to Deliveroo couriers.
Since it doesn't require a network of dark grocery stores "our model is much more scalable" Shu said.
Partnering with supermarkets meant "we can offer their private label products in a way some of the dark store operators can't do" he added.
"We absolutely think our model makes a lot of sense but we do think elements of the dark store model also make a lot of sense."
Deliveroo revealed 7% of its gross transactional volume was now coming from grocery globally. In the UK, Deliveroo has around 1,800 grocery sites live with major partners, up from c1,200 at the end of 2020. When smaller independent grocery players are included, the site count reaches more than 4,600.
Coverage of the UK population has reached 70% thanks to delivery deals with Waitrose, Co-op, Morrisons, Sainsbury's and Aldi, up from 36% at the end of Q1 2020.
The company said today grocery represented "almost 100% incremental demand to the restaurant channel" and was proving an effective customer acquisition channel.
Furthermore, "unit economics for grocery are already attractive, with potential for further improvements" the company said. In the UK, Deliveroo's gross profit per order for grocery stands at approximately £2.10 compared with £2.40 for restaurants.
There was room to boost profit further, Shu said, by driving bigger basket sizes, "improving selection and inventory management", and securing advertising spend from fmcg companies as their marketing efforts shift online.
Shu said he remained "open-minded" about the dark store grocery model, and used several of the main on-demand brands himself.
"We're in the epicentre of this dark store battle here in London, there's got to be 10 or 12 players out there," he said. "I'm certainly getting discounted food products from all of them so I'm pleased about that.
"When I started this company people told me it was pointless and would never work. So as a consequence of that I'm open-minded," Shu said. "Any time I see something that is potentially good for a consumer that a different business model is producing, I'm going to look at it very closely."