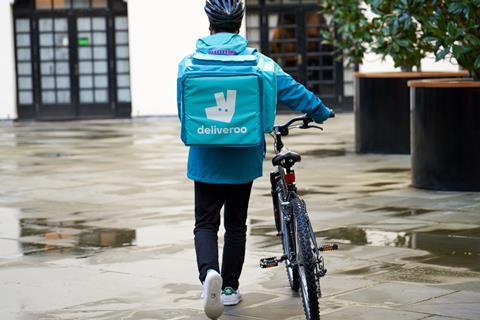 Deliveroo has partnered with buy now, pay later (BNPL) provider Klarna, so customers can buy takeaways and groceries on credit.
App users see the payment option at checkout, where they can opt to pay the full amount immediately, within 30 days or in instalments over 60 days for orders over £30.
"Millions of people are already choosing Klarna and we're giving customers more choice and more flexibility with a safe, secure way to pay online," said Carlo Mocci, chief business officer UK&I at Deliveroo.
Klarna charges no interest or fees if the full amount is paid in full within the set time or late. "You will only ever owe the cost of your original purchase," the company told The Grocer. Klarna says it makes its money on retailer fees: "Our retailers pay us a transaction fee each and every time you shop on their website or in-store with Klarna."
The payments firm – which partners with over 25,000 retailers in the UK including H&M, Ikea, Samsung and Asos – claims its users have "extremely low default rates, well below 1%". It adds that 40% of full repaymments are made before the due date.
"Deliveroo provides a great service to households, and that's why we're excited to offer our alternative payment options to Deliveroo customers," said David Sykes, chief commercial officer at Klarna.
"We believe you should only pay for what you buy with no interest or fees, and it's never been more important for consumers to have access to payment options which help them stay in control of their finances," he added.
Several grocery retailers, including M&S, The Range and Aldi, offer BNPL options, with Klarna and other providers. In other cases, BNPL providers offer prepaid cards that are accepted at a wider range of retailers.
By mid-June this year, UK consumers had spent more than £5.6bn via delayed payment services. In 2021, it took until October for shoppers to spend the same amount, according to Credit Karma.
Just over 40% of BNPL users have missed a repayment so far this year, the research found, up from just 11% for the same period in 2021.
Deliveroo's partnership has drawn criticism.
"Imagine getting a McDonald's on finance," said Andy Duggan of marketing consultancy Hitsuzendo. "It's a step too far because there's never any financial education to go alongside this. All brands working with Deliveroo now need to ask themselves: are they part of a problem that's going to explode in the future?"
Personal finance expert Tara Flynn from Choosewisely.co.uk said: "If you're considering buying your takeaway now and paying for it later… don't. Getting yourself into debt over a meal that's gone in 15 minutes isn't worth it.
"I think it's irresponsible for Deliveroo to offer this as an option, and they need to seriously reconsider this move ASAP," she added.
A spokesman for Klarna told The Grocer that research by the company had found that 1 in 5 Brits pay for takeaways on a credit card, and 1 in 7 have used an overdraft.
"People have been paying for takeaways with credit cards and overdrafts for decades," they said.