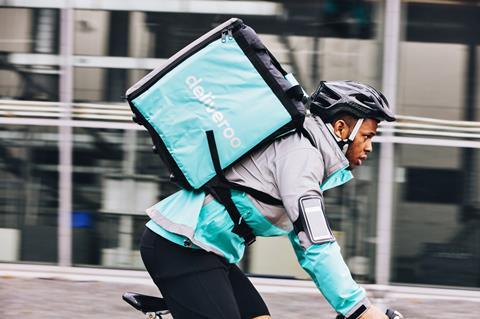 Deliveroo has signed up hundreds of London convenience stores and off licences as it sets its sights on domination of on-demand grocery delivery.

The Grocer has seen a list, pulled from Deliveroo's website by one of its competitors, of over 200 independent and symbol convenience stores and off licences Deliveroo serves in London. As recently as August this year the number was closer to 20, according to the source.

The list includes Costcutter, Budgens, Nisa, Best One, One Stop, Londis and Premier retailers, along with scores of independents.

Menus are also growing, shifting away from an initial focus on alcohol. "About three weeks ago many introduced snacks and sweets," the source said.

A growing number, such as Le Supermarche in Bayswater, are using Deliveroo to offer a full grocery range of hundreds of products spanning fresh, frozen, chilled and ambient.

A Deliveroo spokesman would not reveal how many convenience retail partners the company had. "Deliveroo works with 20,000 restaurants across the UK," he said, adding: "Deliveroo also works with some convenience stores to deliver within 30 minutes."

He acknowledged retail partners included Costcutter, Nisa, Shell, BP and a number of independents, as well as Sainsbury's. He said the number had grown recently and was "well over 100".
The Sainsbury's service was launched in July, offering hot pizzas and complementary products such as snacks and salads from five stores, in Cambridge, Selly Oak, West Hove, Pimlico and Hornsey. That menu has since grown, from around 50 products at launch to 80 this week from the Pimlico store, including dairy, ready meals, cleaning products and cereals.

Deliveroo also partners with the Co-op in a trial which, by May this year, had reached 15 London stores, five in Manchester and one each in Brighton and Milton Keynes. The trial is one of the ways the Co-op could pursue a national rollout of on-demand delivery. Separately the convenience retailer uses a range of couriers for the London online shopping service it launched earlier this year at shop.coop.co.uk, and autonomous robots to deliver in Milton Keynes.

The Competition & Markets Authority yesterday (16 October) launched an investigation into an Amazon investment in Deliveroo. It followed an initial enforcement order served by the CMA in July which said there were grounds to suspect the two companies had 'ceased to be distinct'. Amazon led a £450m fundraising round in Deliveroo in May.