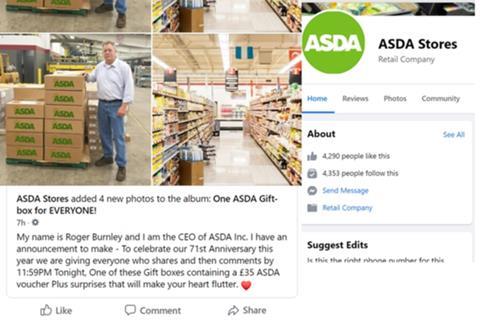 Hackers have been targeting shoppers on Facebook with a new online scam, purporting to come from Asda CEO Roger Burnley.
The scam begins with a fake Facebook page called 'Asda Stores' offering a free £35 voucher, alongside an image of a man in a warehouse next to Asda-branded cardboard boxes. The man, who is wearing glasses, dressed in blue jeans and a scruffy shirt, is not CEO Burnley.
The accompanying text reads: "My name is Roger Burnley and I am the CEO of Asda Inc. I have an announcement to make – To celebrate our 71st anniversary this year we are giving everyone who shares and comments by 11.59pm tonight one of these gift boxes containing a £35 Asda voucher plus surprises that will make your heart flutter."
Users are then directed to an 'enter online' link which asks for their email address, bank details, phone number and security code.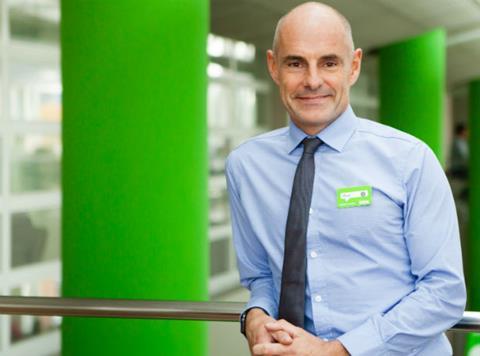 The fraudulent Facebook page already has over 4,000 likes and 5,000 comments from members of the public.
"Cyber criminals are becoming increasingly adept at exploiting big brands in order to gain the trust of consumers, in an effort to steal data," said cybersecurity expert Andy Harcup, VP of Absolute Software.
"With the Covid-19 pandemic forcing millions to work remotely from home, using company-issued laptops and smartphones, these risks are amplified if hackers get hold of key data such as usernames and passwords. In these turbulent and uncertain times, it is essential businesses ensure the proper security systems are in place to prevent hackers from hijacking company devices and keep employees safe from online threats."
Asda said it had spotted the scam quickly and had the fake posts removed.