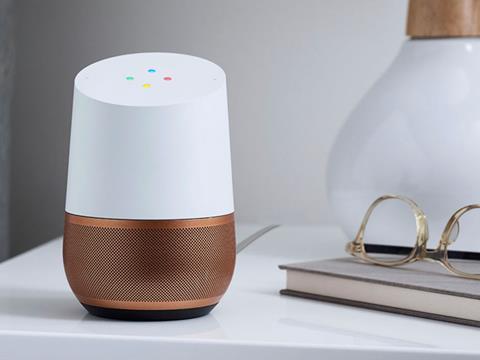 Google Smart Speaker users trying to voice shop by asking to "buy" groceries have been directed to a service that only works abroad, a report suggests.
In tests of phrases including "Buy wine" and "Buy Coca-Cola", Google Assistant suggested eBay, even though the auction site doesn't yet support voice shopping in the UK.
As a result, testers were then told by eBay, "Would love to help, but I'm tied up in the US and Australia right now. Hang tight while I work my way to a device near you."
Digital marketing agency Roast tested 186 phrases beginning with "OK Google, buy…" followed by the name of an fmcg product or brand.
Nine resulted in a so-called action prompt, where the user is offered a program that has been added to the Google Assistant platform by developers and brands for services including voice shopping.
In all nine cases, the suggestion was a variation of "You might want to try eBay for that", leading a user who agreed to the same "tied up" response.
Other fmcg phrases that led to the same outcome when combined with "buy" included "Red Bull", "Silver Spoon", "catfood", "energy drinks" and "pies".
Asda recently added a voice shopping action to Google Assistant but users must first link their supermarket account to the platform and say "OK Google, talk to Asda" to initiate it.
Phrases that didn't lead to the eBay action instead resulted in Google Assistant providing details of grocery stores located near the user. These were based on Google My Business listings, highlighting the importance to retailers of keeping their details up to date and obtaining good reviews on the platform, the report said.
"There is a huge opportunity within the fmcg space in particular," said Roast MD Gareth Owen. "Brands need to aim to be the default answer when it comes to terms such 'buy' plus 'product'.
"However, it's all well and good being the default answer by Google, but if the journey isn't smooth, opportunities for retailers will be lost."
Google did not provide a comment but a source said a team had "fixed" the "bug" after it was raised by The Grocer and the smart speakers were now "giving a variety of different results for voice searches".