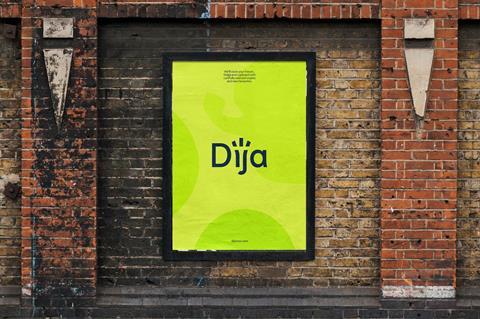 Two former Deliveroo executives have launched a rival rapid grocery delivery service called Dija.
The service – which promises groceries within 10 minutes – is available from today in South Kensington, Fulham and Hackney, with Camden Town coming online in coming days.
Dija says it is "upping the ante" in rapid grocery with its 10-minute order arrival guarantee. If a customer's order doesn't arrive in the timeframe, Dija will deliver their groceries for free for the next three months.
The company will serve customers in more than 20 locations by summer, it said, providing access to around three million Londoners. There is a £1.99 flat fee for delivery.
Dija said its hubs are located in densely populated areas "right on customers' doorsteps" and each carry around 2,000 products sold at recommended retail prices.
"Whether or not that's more expensive will depend on the product, the local store prices, and if there are offers running. There may be instances where we are more expensive but there will also be times we're more affordable," CEO Alberto Menolascina told The Grocer.
The available range covers branded food and non-perishable items, as well as fresh produce. The company said it works directly with manufacturers to source products.
"Dija uses data to improve efficiency and spot buying patterns so that its customers do not have to put up with substitutions or missing items," the company added.
Read more:
The start-up is investing in its own fleet of e-bikes, and employing its own delivery riders and drivers.
"Grocery stores aren't designed to facilitate the fast fulfilment of orders, rather they are designed for browsing. We have put a 10-minute delivery speed and consummate reliability at the front and centre. Our hubs are designed so that pick and pack and fulfillment is the fastest possible," said co-founder and chief operations officer Yusuf Saban.
Menolascina added that "the days of fighting for online slots, damaged goods and disappointing substitutions" are now gone.
"Dija is here to change every hassle we experience with the weekly shop. We are making this time-consuming and unsatisfactory experience simple, speedy and reliable," he said.
Saban was chief of staff at Deliveroo for four years up until April 2020. Co-founder Menolascina was Deliveroo's director of corporate strategy before leaving the company in late 2018.
In December, Dija raised $20m in funding from Blossom Capital, Creandum and Index Ventures, which has previously backed Deliveroo and Just Eat.
"With Dija, we can be as spontaneous when it comes to home cooking as we are with ordering last-minute restaurant deliveries. Removing the friction and time costs around recipe planning, it enables consumers to cook what they want, when they want. We're excited to work with the former Deliveroo team on this new and exciting venture," said Index Ventures principal Georgia Stevenson.
Dija said the funding boost will allow it to invest in building out its team and the operational and technological infrastructure underpinning its offering.
Its arrival in the capital comes just months after Turkish rapid delivery firm Getir announced its arrival in the UK, offering a range of groceries to customers in London zones 1 and 2, similarly delivered from small distribution sites in residential areas and within 10 minutes.
Trials of Dija in South Kensington and Fulham have seen first-time customers "quickly convert to regular shoppers". Up to 40% of daily orders are placed by returning customers, and the service is top rated by 95% of customers, resulting in 300% order growth since launch, the company said.