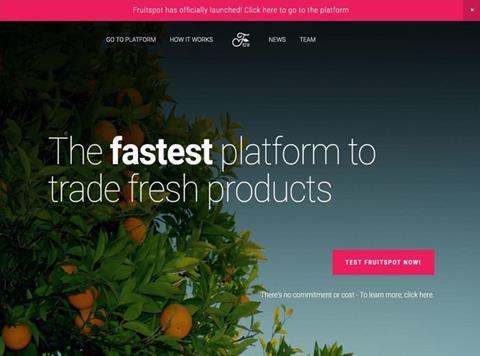 Supermarket buyers can now access a global supply of fruit & veg on one online marketplace after the official launch of trading website Fruitspot.

The site went live last week after months of final testing, and to date had already attracted more than 600 users, said founder and CEO Jose Baptista, with several UK supermarkets signed up.

Fruitspot was designed to "quickly solve urgent needs, frequently caused by excess or shortages in production", he added. It worked as a matchmaking site between growers and buyers; allowing them to better deal with supply and demand imbalances and crop and yield variability, with growers able to advertise any excess stock they have to sell, and buyers able to post what supplies they are looking for, he added.

"In under two minutes, our users can notify a verified network of buyers or sellers to receive quotes that solve their need faster than anywhere else," Baptista said. "This makes our platform uniquely valuable to access new markets, partners, and trading opportunities."

Fruitspot had also joined the UN Food and Agriculture Organization's Global Initiative on Food Loss and Waste Reduction. The UN had identified the platform as a solution to reduce food waste caused by market inefficiencies, Baptista claimed.