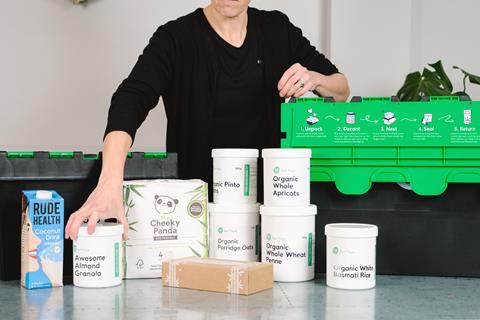 Members-only online grocer Good Club has launched a closed-loop, zero-waste delivery service.
More than 70 products are available in the new range, which arrive in reusable and returnable packaging. The customer decants the products – be they nuts, oats, seeds, grains, pastas or rice – into their own containers, and leaves the empties out for collection the following day. Good Club then washes and refills the empties and "the whole cycle starts again" it explained.
Good Club claims the range – which will expand to 150 goods by the end of the month – is the world's biggest range of sustainable zero-waste staples, and the first retailer to offer next-day collection of empties.
"We'll never be filling up our customers' bins, unlike other services, which deliver in paper bags and cardboard boxes, which need to be recycled and can only really be reused a handful of times. Our delivery crates will be used indefinitely. We think it's a simple solution to a complicated problem," said Ben Patten, co-founder of Good Club.
The items, individually packed in BPA-free plastic jars, arrive in a plastic tote secured with reusable zip ties. Empties are left in the tote on the customer's doorstep or can be dropped off at Hermes ParcelShops. Deliveries and collections are made by a carbon-neutral courier.
The zero-waste range is mainly made up of Good Club's own-brand products, but collaborations are underway with Fill, Rolla Granola, Joe's Tea, Homethings and Cru Kafe.
Although the proposition is similar to that of reusable packaging platform Loop – which launched online with Tesco in July – Good Club says it is "very different" in that it only sells sustainably produced products.
"It's our view that ultimately all value chains need to become circular. Loop and new services in other verticals help make that point, so we're just happy to see them as further validation of what we're doing," Patten told The Grocer.
Good Club was launched in 2018 by Patten, a former Farmdrop founder, and designer Danny Blackman. The company has raised £2.75m since its inception, £1.75m in the past six months, through crowdfunding, sustainability funds and angel investors.
Closed-loop trials featuring a limited range of around 30 SKUs began in 2019, but this week a much broader offering was made available to all subscribers.
The membership-based brand offers around 4,000 products, which are offered at wholesale prices – the company claims – up to 40% lower than in supermarkets. Customers pay a £30 a year membership fee, offered for free to low-income families.
The brand has around 6,000 members at present and says it is growing at a rate of 1,000 new members a month.
"We know he only way to hit sustainability targets is to get lots more people living sustainably. And the only way to get a lot more people buying sustainable groceries is to make the shopping process ridiculously easy and convenient. That's why we've developed this seamless next-day collection service," Patten added.