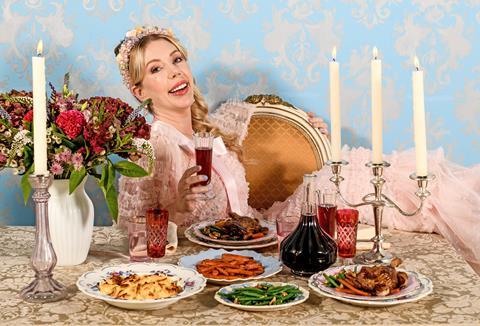 Recipe box brand Gousto has launched a recipe range inspired by "top foodie moments from TV and film".
The database of "scene stealing dishes – called The Dinner Show Hub – lists the meals alongside the specific episode or movie they feature in or were prompted by.
Among the new range is Roast Duck & Duchess Potatoes Banquet, inspired by episode five of the second season of Netflix period drama Bridgerton, All-In-One Mushroom Ragù Spaghetti with Caprese Salad inspired by 1990 gangster film Goodfellas, and Four-Cheese Pizza with Roasted Tomato Salad, taken from episode two of the third season of Breaking Bad.
"With the blockbuster range, we've brought the drama of these fantastic food scenes straight to our customers' dinner tables, recreating classic dining experiences," said Jordan Moore, senior food development manager at Gousto.
"We've stayed true to the choice and big flavour that we're famous for. We hope our customers are inspired by our latest innovation which brings inspiration to food and TV fans everywhere."
The range is available for order now at Gousto with delivery until 6 October.
According to a study by Gousto, a third (33%) of Brits agree that TV shows and streaming services such as Netflix and Disney+ were among the main sources of their dinner inspiration - more than recipe books or social media. The survey found a similar proportion (29%) of Brits had tried to recreate Lady and the Tramp's famous spaghetti scene.
"The Dinner Show Hub and range could not come at a better time when I'm in need of recipe inspiration," said comedian Katherine Ryan, who is a Gousto brand ambassador. "It's all about reliving those unforgettable moments and creating something truly special in my own kitchen."
McDonald's last month launched a similar initiative called 'As Featured In Meals', a new menu available at the chain starring "meal items famously featured in pop culture". The launch of the menu includes an advertising campaign featuring the many movies and programmes in which the restuarant chain has made a cameo.