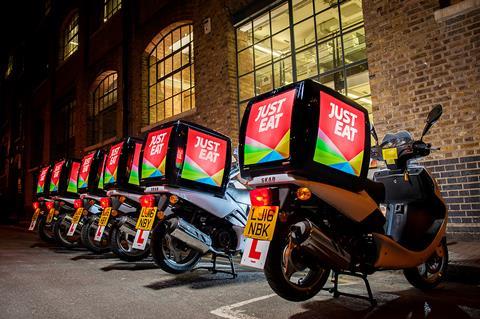 Non-food retailers, delivery companies and restaurant staff could be called upon to help deliver groceries as supermarkets struggle to cope with online demand caused by the coronavirus outbreak.
Retail bosses and government have floated the idea of using the likes of Deliveroo, Just Eat, Uber Eats, Yodel, DHL and high street retailers to boost capacity, an industry source with knowledge of the emergency meetings told The Grocer.
Restaurants and cafés, which have experienced a downturn in demand as coronavirus fears increased, could also step up to help, providing a much-needed income stream, the source added.
It is expected the big supermarkets could pick up the tab to pay for the extra capacity from revenues earned from the surge in demand, the source said. As reported in The Grocer on Monday (16 March), panic buying in stores led to the highest sales volumes ever recorded over the past weekend.
Some supermarkets on the high street may close and operate temporarily as dark stores for food delivery to boost capacity levels, the source added.
"There is unparalleled demand for food retailers and at the same time an unparalleled demise of others in non-food," the industry source said.
"The big question is can non-food step up and help food retail cope with the demand and help with food deliveries? We have already seen this happen in China with their equivalents of Uber Eats and Deliveroo.
"The fact is that home delivery shopping in this country accounts for 7% of the market, and if the government want to double that figure then we, frankly, don't have the capacity – either in terms of supermarket vans or drivers," the source said.
"But you can outsource that to third parties when demand is dormant elsewhere.
"People need to think much broader than just Tesco delivering Aldi food, for example. Food retailers are doing a stellar job of getting products from distribution centres to store and to shelf and to homes. But the capacity is hamstrung – and that is even before staff start to go off sick. But there are other sources of capacity out there.
"It makes more sense to tap into that latent capacity of an adjacent sector that has the experience of retail delivery and has the experience of moving stock from DC to stores to customers.
"And you also have firms such as Yodel and DHL that are experiencing a drop in normal mail and parcel activities that can step up to help."
Employment and competition law might usually rule out such ideas. However, BRC CEO Helen Dickinson confirmed yesterday that talks were underway on relaxing competition laws should staff levels drop.
The Grocer also revealed on 13 March that a government team was looking at how competition laws could be used to help retailers cope, with ministers already having agreed to temporarily axe delivery curfews and extend driver hours.
Among other plans being discussed are proposals for BEIS to relax Sunday trading laws to help cope with the unprecedented demand.